Scripps to Buy Majority Stake in Polish Television Group
Marta Waldoch and Maciej Martewicz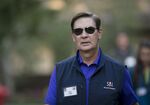 Scripps Networks Interactive Inc. will buy a controlling stake in Poland's second-biggest television network TVN SA for 584 million euros ($614 million) in one of the largest media deals in central Europe since communism's fall.
Scripps agreed to acquire the 52.7 percent holding from N-Vision B.V., a unit of France's Vivendi SA and ITI Group. The Knoxville, Tennessee-based buyer will assume 300 million euros of N-Vision's debt and 540 million euros of TVN's and start a mandatory tender offer to raise its stake, Scripps said in a statement Monday.
The company that brought reality-TV show "Big Brother" to Poland competes with state-run Telewizja Polska SA and Cyfrowy Polsat SA in an advertising market worth about 5.1 billion zloty ($1.3 billion), according to consulting firm Starlink. It has free-to-air and pay-TV assets, including a 24-hour news channel, and its broadcasting business captured 22 percent of Polish viewing last year, Scripps said.
"We didn't start it up by saying we need to be in Poland, but by looking at opportunities to acquire companies," Scripps Chief Development Officer Joseph Necastro said in an interview on Monday in Warsaw. "We liked what we learned about Poland: it has a stable economy, business-friendly environment, highly educated growing middle class, and is an aspirational marketplace and that's what our programming appeals to."
Polish Law
Cyfrowy Polsat bought TVN's domestic competitor in 2010 for 3.75 billion zloty. Poland is the 7th-largest TV market in Europe, according to MagnaGlobal. The U.K., Germany and France are the largest markets.
According to local law, investors in publicly traded companies are required to announce a tender for a stake of 66 percent after they exceed 33 percent. Competitors for the holding included Bauer Media Group, Time Warner Inc. and Discovery Communications Inc.
Scripps is still determining what price it will offer in the public bid. It will take into account Monday's offer, which valued TVN at 20.5 zloty a share, a buyback completed in November at 20 zloty a share as well as a three- or six-month average price referenced in such transactions, Necastro said. The three-month average price was 17.55 zloty, data compiled by Bloomberg show.
Scripps may delist TVN, Necastro said. The company plans to make that decision before completing the takeover, which is expected in the third quarter, he added.
Domestic Advertising
TVN shares fell 0.7 percent to 17.94 zloty at 2:50 p.m in Warsaw, trimming this year's gain to 9.7 percent. The yield on TVN's 2020 Eurobonds was unchanged at 4.962 percent, and has dropped by 100 basis points since the broadcaster's owners announced their sale plans in October.
Scripps hasn't yet decided on whether to repay or keep TVN's debt, Necastro said.
The Warsaw-based company sold assets in 2012 to reduce debt as the domestic advertising market shrank. The Polish broadcaster's ratio of net debt to adjusted earnings before interest, taxes, depreciation and amortization dropped to 3.9 at the end of last year from 4.3 a year earlier, company data show.
Food Network
TVN, whose flagship TVN24 channel captured its audience in 2001 with real-time coverage of the Sept. 11 attacks in the U.S., is rated B+, the fourth-highest junk grade at Standard & Poor's.
Scripps distributes HGTV and the Food Network and develops content for lifestyle media platforms including television, digital, mobile and publishing. Consolidated sales were $2.7 billion last year.
While TVN is more a mainstream broadcaster, Scripps is "kind of a question mark as they are more into entertainment," said Wlodzimierz Giller, an analyst at Warsaw-based PKO Bank Polski SA. "Nevertheless, its products will certainly support TVN's offering."
The U.S. company wants to generate at least 30 percent of revenue outside the U.S. in a couple of years, and with new acquisitions including TVN its international sales reach 25 percent of the total, Necastro said. TVN is to become Scripps' "eyes for expansion" in central and eastern Europe, he added.
Scripps's financial advisers for the transaction were Barclays Plc and Blackstone Advisory Partners L.P. TVN's adviser was Nomura International Plc., while JPMorgan Chase & Co. and Bank of America Corp. advised ITI Group and Vivendi.
Before it's here, it's on the Bloomberg Terminal.
LEARN MORE