Scene Last Night: Paltrow, Thicke at AmfAR's Hong Kong Gala
Frederik Balfour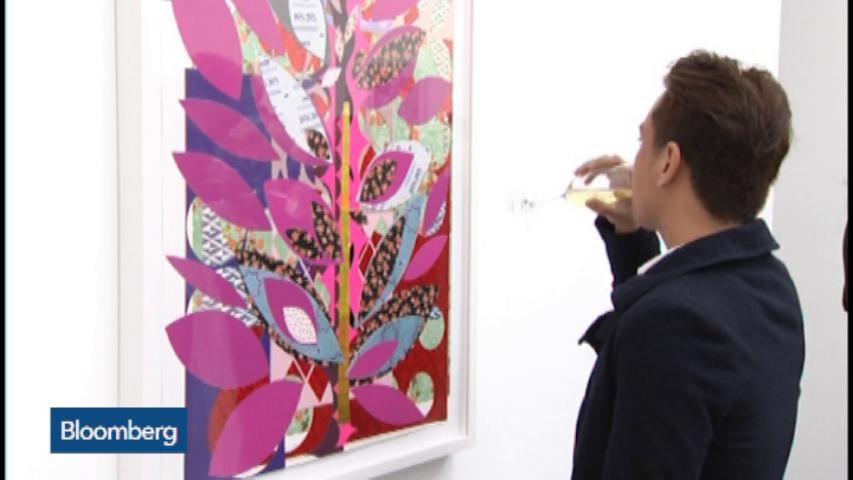 Leonardo DiCaprio helped raise $1 million at the AmfAR charity gala in Hong Kong, and he wasn't even at the party.
That didn't stop four people, including billionaire art collector Budi Tek, from bidding up $250,000 each for the chance to party with the Wolf of Wall Street and hang out on his yacht in San Tropez for a day. Tek also shelled out $60,000 for an Alex Prager photograph in the auction that raised more than $2 million for the American Foundation for AIDS Research on Saturday night.
AmfAR enlisted the services of Kate Moss, Naomi Campbell and Gwyneth Paltrow to help raise the profile of the event that earned more than $4 million including money from table sponsors.
Michelle Yeoh, who received an AmfAR humanitarian award for her contribution to the global struggle against HIV/AIDS, her voice breaking with emotion, said it "will always remind me of the responsibility that comes with it, to boldly champion our cause to give the voice to the voiceless."
Other guests at the event at Shaw Studios included Shanghai Tang founder David Tang, Pansy Ho, co-chairman of MGM China Holdings Ltd., apparel billionaire Silas Chou, designer Vivienne Tam, socialite Paris Hilton, and AmfAR board chairman and designer Kenneth Cole.
The event marked AmfAR's first gala fundraiser in Hong Kong. "It's been so wonderful," said Ho, who timed the event to coincide with Art Basel Hong Kong. "I think we raised about twice as much as we expected."
Other guests included Patti Wong, chairman of Sotheby's Asia, Pierre Chen, chairman of Taiwan's Yageo Corp. and Robbie Antonio, managing director of Manila-based Century Properties Group Inc.
After Party
"I am super delighted to see AmfAR come to Asia for the first time," said Antonio, who joined Hilton's table at the after party next door where Moss helped DJ Fat Tony spin. "Obviously with all the celebrities it was a very big initiative and the fact that you had Art Basel was a bonus."
Paltrow, who helped emcee the evening and served as event honorary chair, said having two children made her realize the urgency of finding a cure to AIDS. "When you have kids of your own, it really hits home," she said during cocktails before the dinner. "I really hope they can achieve their goal by 2020.
Paltrow joined auctioneer Simon de Pury on stage, wearing a Harry Winston necklace for sale. ''It's very beautiful and very expensive, but I know you are all very rich and going to impress us with your bidding,'' she said, helping it sell for $140,000.
Moss took the stage during the auction of a portrait of her donated by pop artist Mr. Brainwash, playing peekaboo from behind the painting, at one point kissing the man holding the work aloft during the bidding.
''You got to sell it, baby,'' she said later.
Blurred Lines
With the official business of raising money done, Robin Thicke took the stage. He belted out covers of Al Green and Michael Jackson songs, finally rounding out the show with a performance of ''Blurred Lines,'' the hit that ended up costing Pharrell Williams and him $7.4 million in compensation to Marvin Gaye's family for copyright infringement.
In a room full of celebrities, one guest showed surprise when a reporter didn't recognize her, after she posed in a photo next to Victoria Beckham. ''I'm the first daughter of Hong Kong," said Chai Yan Leung, after spelling out her name. "I'm Chief Executive C.Y. Leung's daughter."
Before it's here, it's on the Bloomberg Terminal.
LEARN MORE