San Diego Galled by Idea of Losing NFL's Chargers to Glitzy L.A.
James Nash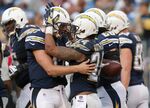 In San Diego, a place so convinced of its virtues that "America's Finest City" is not only the civic slogan but the name of the softball league and half-marathon, the prospect of losing its professional football team threatens to tear at local pride.
Worse, the San Diego Chargers are considering a move to the Los Angeles area, the metropolis 120 miles (190 kilometers) up the coast, known for celebrities, sprawl, convertible sports cars and smog. San Diego, by contrast, prides itself on its compactness, concentration of residents with doctorates and military presence, including a 57-ship U.S. Navy fleet.
One thing that Los Angeles, the second-biggest U.S. city, doesn't have is a National Football League franchise. It's trying to lure teams from Oakland and St. Louis, both of which left Southern California in 1995, as well as the Chargers. The complex contest is fought on the field of public subsidies for sports arenas, shifting fan loyalty and local pride.
"Losing a team in general would be a blow, both in emotional and economic impact," said Raphael Alvarez, a San Diego native who founded the Chargers fan club in 1992, standing outside the team's hulking, concrete Qualcomm Stadium, seven miles northeast of downtown. "Having it be in L.A., that's throwing salt in the wound."
Owners of the Chargers, St. Louis Rams and Oakland Raiders are putting their franchises in play, with the possibility of two teams landing in Los Angeles suburbs.
L.A. Getaway
Civic leaders are dangling public financing for new stadiums, though such subsidies haven't paid for themselves in Houston, Minneapolis and other cities. Voters in Cincinnati, for example, increased sales taxes to help pay for a new home for their baseball and football teams two decades ago. They've been stuck with annual expenses of more than $40 million.
For all the efforts of San Diego Mayor Kevin Faulconer and other leaders to keep the Chargers, the team may already be in L.A.'s embrace. Alex Spanos, the billionaire majority owner, and his son Dean, who runs the franchise, are helping the Oakland Raiders bankroll a campaign for a new stadium they would share in Carson, a Los Angeles suburb of 90,000.
Still, Sunny Soltani, the Carson city attorney, said no city funds would go toward the $1.7 billion cost of a new stadium. The Spanos family is working with Faulconer and others on a financing package that might keep the Chargers in San Diego, said the team's special counsel, Mark Fabiani.
"A professional baseball team and a professional football team is part of the fabric of San Diego," Faulconer said in an interview. "The community is committed to keeping the Chargers here."
However, a task force appointed by Faulconer recommended on March 12 building a new stadium on the existing Qualcomm site. The owners want instead to be in downtown San Diego.
"We are pursuing this stadium option in Carson for one straightforward reason: If we cannot find a permanent solution in our home markets, we have no alternative but to preserve other options to guarantee the future economic viability of our franchises," Fabiani said in a statement on behalf of both the Chargers and Raiders. Goldman Sachs Group Inc. has been advising the teams.
"I can't believe they're going to leave," said 35-year-old Johnny Abundez, a member of the Chargers fan club, Bolt Pride. "If they do, I'm going to go to every single away game as my home game."
Rah, Rah
Hours after Faulconer's panel recommended the Qualcomm site, Mission Ebenezer Family Church in Carson was hosting a rally to kick off a petition drive to bring the NFL there. While God got shout-outs from a few of the more than 100 people in attendance, earthly concerns, specifically those involving 22 players on a rectangular field, took center stage.
"God bless you guys," Assistant Pastor Josh Canales told attendees, standing on a stage where lawn signs reading "I'm on Carson's Team" shared space with a wooden cross. "Let's bring football back to L.A.!"
Raiders fans predominated, with only a smattering of Chargers blue and yellow among the Raiders' black. City Councilman Albert Robles wore a jersey split down the middle, with the Chargers colors on the left and the Raiders on the right.
"To have the Raiders back here as a Los Angeles team -- they're in my heart," said Pedro Alvarez, 60, pounding his fist against his chest for emphasis.
Oakland also is playing defense. County Supervisor Nate Miley urges a revamp of the 49-year-old Coliseum with a subsidy or writedown of bond debt. Mayor Libby Schaaf is developing a financial package that "works for the Raiders, the fans and the taxpayers," she said in a statement.
In Missouri, Governor Jay Nixon, who has proposed extending bond payments to raise as much as $350 million toward a new St. Louis stadium, vowed to deploy construction crews 24 hours a day.
Billionaire Stan Kroenke, majority owner of the Rams, appears most serious about moving a team to L.A., having bought land for a stadium in Inglewood, east of Los Angeles International Airport, said Andrew Zimbalist, who teaches sports economics at Smith College in Northampton, Massachusetts. Artis Twyman, a spokesman for the Rams, didn't return calls seeking comment on a move.
Local Leverage
The three teams considering the City of Angels finished in the bottom, or second-to-bottom, of their divisions last year. The Chargers last played in the Super Bowl in 1994.
Spanos and Raiders majority owner Mark Davis may be threatening to move to L.A. to exact incentives for new stadiums in their existing cities, Zimbalist said by telephone.
"That's not to say that it couldn't happen, but more of the motivation is to get a better stadium situation in Oakland or San Diego," Zimbalist said.
Abundez, hanging out with friends in the Qualcomm Stadium parking lot, said California would benefit from keeping the Oakland and San Diego teams where they are while luring the Rams to L.A. from St. Louis.
"They do deserve it. They've been up there for two decades without a team," he said. "Sports and entertainment bring people together. It's all love, man."
Before it's here, it's on the Bloomberg Terminal.
LEARN MORE