Rouhani Rivals Switch Attack as Iran Nuclear Deal Support Grows
Kambiz Foroohar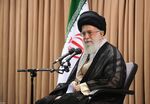 Opponents of Iranian President Hassan Rouhani are attacking on a second front after reining in their criticism of nuclear negotiations amid broadening support for a pact.
Talks with world powers on a deal to end a decade-long diplomatic standoff are nearing an end-March deadline with no certainty of success. Yet the backing Rouhani has won from Supreme Leader Ayatollah Ali Khamenei, as well as ordinary Iranians, make it risky territory for conservatives.
Instead they have been targeting Rouhani's allies, an effort that might shape opinions ahead of next year's elections for parliament and the powerful Assembly of Experts. Judiciary chief Gholamhossein Ejei led the charge, warning the media against publishing "images or statements" of reformist former President Mohammad Khatami, who fell out with the clerical establishment by supporting charges of vote-rigging in a 2009 election.
"Khatami's presence is a reminder of a more free and open society during the Islamic Republic's lifetime," said Ali-Asghar Ramezanpour, who served as a junior minister under Khatami. "The conservatives want to silence him, to make people forget about him."
The political tide could be against them. The nuclear talks won another key endorsement last week, this time from Ayatollah Mahmoud Shahroudi, vice-chair of the conservative Assembly of Experts which will choose who replaces Ayatollah Ali Khamenei as supreme leader. Iran "backs a good deal that ensures its interests," he said, while calling the U.S. "untrustworthy."
'Mr. Special'
Khatami, whose rule ended in 2005, provided crucial backing for Rouhani's successful campaign for the presidency, persuading the reformist camp's candidate, Mohammad Reza Aref, to drop out of the race.
Some of Khatami's former officials now serve under Rouhani. He remains popular with the youth, many of whom took to social media following Ejei's pronouncement, with hashtags including "We will be Khatami's media," and "Mr. Special."
Khatami was already barred from leaving the country yet he has avoided the house arrest orders which keep Mir Hossein Mousavi and Mehdi Karrubi, leaders of the 2009 protests over the disputed election, out of sight.
Rouhani has pledged to seek their freedom but may not be able to deliver it for now, according to analysts.
Public Purging
"There is an undercurrent of tension between conservative hardliners and Rouhani's government," said Haleh Esfandiari, director of Middle East program at the Woodrow Wilson Center, a policy institute in Washington. "Rouhani can't openly criticize the judiciary and that shows the limits of his power."
To his opponents, Rouhani's agenda of detente with the U.S. and making concessions on the nuclear program represents a challenge to the tenets of the 1979 revolution and clerical rule. Election promises have frequently been stymied by the conservative judiciary.
Iran's main reformist newspapers, including Shargh, Etemaad and Ebtekar, complied with the Khatami gag order.
The judiciary blocked two news websites, Baharnews and Jamaran, that didn't, relenting after articles and pictures were removed and the website owners pledged in court not to repeat their actions.
The ban on Khatami has caused some awkward moments. When Khatami's sister died last month, Khamenei sent a public condolence letter only to the former president's mother. By contrast, Mahmoud Ahmadinejad, the conservative whose presidency came between those of Khatami and Rouhani and triggered the 2009 protests, received a personal note after his mother's death in early February.
Oil Slump
"The hardliners have persuaded the supreme leader that Khatami cannot be trusted because he wants to go beyond reform and fundamentally transform the Islamic Republic," said Hossein Ressam, an Iranian political analyst based in London. "Khatami is seen as too much of a threat."
For now, Rouhani is focused on delivering the accord that would limit the Persian Gulf country's nuclear program in return for the lifting of sanctions, most likely over several years. The slump in oil prices has added to the urgency of securing a deal.
A deal that's acceptable to Khamenei will bolster Rouhani for the fight ahead, while failure will leave him vulnerable to attack. Whatever the outcome, his opponents won't disappear, said Ramezanpour, the Khatami-era official.
"Rouhani is betting that a nuclear deal will make him stronger so he can push back," Ramezanpour said. If he keeps taking blows "without hitting back, people will treat him as a punch bag," he said.
Before it's here, it's on the Bloomberg Terminal.
LEARN MORE