Real-Estate Heir Durst Charged With 2000 Murder of Friend
Edvard Pettersson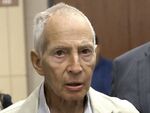 Robert Durst, the New York real-estate heir who appeared to be admitting he killed three people including his wife in an HBO documentary, was charged with the execution-style murder of a friend in 2000.
Durst, 71, is accused of first-degree murder in the killing of Susan Berman and is eligible for the death penalty, the Los Angeles district attorney said in a statement Monday. Prosecutors said they haven't decided whether they'll seek the death penalty.
In the final episode of "The Jinx: The Life and Deaths of Robert Durst" that was shown Sunday, Durst is heard talking to himself while he's in the bathroom and still wearing a microphone. He appears to be saying he "killed them all," apparently in reference to his wife, Berman, and a man he killed in Galveston.
Durst has maintained his innocence in his wife's disappearance in 1982 and the shooting death of Berman. A Texas jury acquitted him in 2003 of the murder of Morris Black, his neighbor. Durst, who argued self-defense during the trial, admitted he cut up Black's body and dumped the body parts in Galveston Bay.
Durst's lawyers didn't immediately respond after regular business hours to a phone call seeking comment on charges in Berman's death. Durst was arrested March 14 in New Orleans and waived extradition to California at a hearing Monday.
Durst's Confidante
Los Angeles prosecutors said in a court filing that Durst killed Berman because she was a witness to a crime. According to the HBO documentary, Berman was a daughter of Las Vegas gangster Dave Berman and she was Durst's confidante and spokeswoman at the time of his wife's disappearance.
Berman was killed shortly before she was scheduled to be interviewed by authorities about the disappearance of Kathie Durst. Prosecutors in Westchester County, New York, had reopened the investigation of her disappearance in 2000.
In the final episode of "The Jinx," Durst is confronted with a letter he sent to Berman before her death. The handwriting on the envelope and the misspelling of "Beverly Hills" as "Beverley Hills" matches that of a note sent to Beverly Hills police right after her murder, saying that there was a "cadaver" at Berman's address.
Durst denied he wrote the note to the police when asked about it by the documentary makers. After the interview concludes, he excuses himself to go to the bathroom and unaware that he's still being recorded, says "What the hell did I do? Killed them all, of course."
Northern California
Durst said in the documentary that he was in Northern California at the time of Berman's murder on Dec. 23, 2000. She was found with a single gunshot to the back of her head. Investigators interviewed for the documentary weren't able to place Durst in Los Angeles the day she was killed.
According to the HBO documentary, Durst was renting an apartment in Galveston in 2001 disguised as a mute woman to avoid the publicity surrounding the new investigation into his wife's disappearance. He jumped bail after he was arrested on suspicion of his neighbor's murder and was later caught shoplifting in a Pennsylvania supermarket.
He took the stand in his own defense at the 2003 trial and told the jurors that he shot Black accidentally while struggling with the 71-year-old man for control of a gun. He testified that he cut up the body because he panicked and feared he wouldn't be believed. The bags with the body parts were found floating in the water -- the head was never discovered.
Durst is the oldest son of New York real-estate entrepreneur Seymour Durst, whose father founded the Durst Organization. The company owns and manages more than 13 million square feet of high-end office space in Manhattan and is co-developer of 1 World Trade Center. In the 1990s, Douglas Durst, Robert's brother, was chosen to succeed his father.
"We are relieved and also grateful to everyone who assisted in the arrest of Robert Durst," Douglas Durst, chairman of the company, said in an e-mailed statement. "We hope he will finally be held accountable for all he has done."
Durst will be brought back to Los Angeles for arraignment at a "future date," according to the district attorney's statement.
The case is People v. Durst, SA089983, California Superior Court, Los Angeles County.
Before it's here, it's on the Bloomberg Terminal.
LEARN MORE