P&G's Possible Beauty-Unit Split Shows Industry's Challenges
Lauren Coleman-Lochner and Carol Hymowitz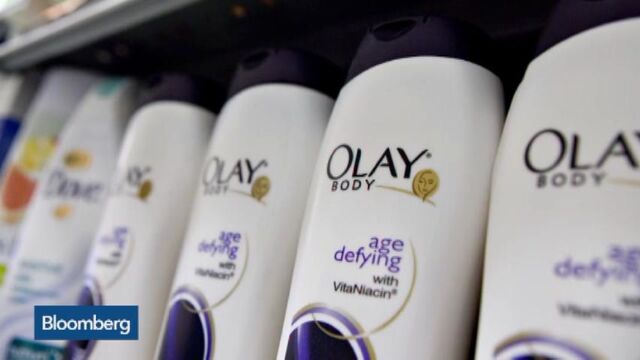 Procter & Gamble Co.'s potential split-off of some beauty brands into a separate company reflects the struggles the world's largest consumer-products maker has had trying to master a fragmented, fast-moving industry.
P&G is working with advisers on a plan to sell or spin off some of its beauty brands, people with knowledge of the matter said. The company hasn't finalized the details and may decide not to follow through on a separation, the people said.
The fact that P&G is even considering such a plan shows how difficult the cosmetics industry -- with its rapidly changing trends and numerous competitors -- has been for a behemoth used to selling household staples like diapers and detergent. While P&G has focused on extending brands such as Olay skin care toward new audiences, rivals like L'Oreal SA have captured younger consumers with targeted lines such as Urban Decay.
"Procter & Gamble has not moved on with the industry dynamics," said Oru Mohiuddin, an analyst at Euromonitor International in London.
A sale or spinoff of some of the beauty business would accelerate Chief Executive Officer A.G. Lafley's plan to exit as many as 100 slower-growing or money-losing brands. Lafley has aimed to have plans for all the separations completed by July, allowing P&G to focus on its remaining 65 brands.
The shares fell 0.8 percent to $82.85 at the close in New York. Cincinnati-based P&G has slid 9 percent this year, compared with a 0.7 percent gain for the Standard & Poor's 500 Index.
Targeted Brands
Beauty brands succeed when they are targeted at consumers of similar ages and ethnicities shopping within narrow price ranges and on specific sales platforms, Mohiuddin said. For example, L'Oreal has thrived by selling Urban Decay to younger consumers and filled in gaps in its lineup with acquisitions such as a pending deal to buy Brazilian hair-color company Niely Cosmeticos Group.
P&G, meanwhile, has tried to win younger consumers by adding the Fresh Effects line to its Olay brand, which still is considered by many shoppers to be more for mature women, Mohiuddin said.
"The beauty industry has become highly segmented," she said.
In other categories, P&G doesn't have a wide enough variety of offerings, said Ravi Dhar, a professor at Yale School of Management who teaches and writes about marketing.
"P&G lacks critical mass in brands such as fragrances, where consumer tastes change frequently," he said.
Stagnating Sales
P&G's beauty unit generated $19.5 billion in sales in the year through June, or 23 percent of the company's $83.1 billion in revenue. The division's sales have stagnated in recent years, with last year's total for the segment down 2.2 percent from the year ended June 2011.
L'Oreal is the largest global beauty seller, followed by Unilever, according to Bloomberg Intelligence analyst Deborah Aitken. While P&G is third, Olay is the largest skin-care brand, and Pantene leads in hair-care sales, followed by P&G's Head & Shoulders line.
P&G has been working to turn around Pantene and Olay after they lost ground to rivals. Pantene, helped by new products and better marketing, has gained market share in five of the past six months, Lafley said at the Consumer Analyst Group of New York conference last month. However, the revival of Olay is "still an opportunity to be realized," he said.
Beauty Brands
P&G's beauty unit also includes CoverGirl makeup, SKII skin cream and Herbal Essences shampoo. Some of the company's celebrity fragrance brands and its Londa Professional hair salon brand would be strong candidates for divestiture, Mohiuddin said.
Lafley publicly targeted beauty care as a problem business at the CAGNY conference in February 2014, just nine months after he returned for his second stint at the head of P&G.
The beauty business has suffered from turmoil and inexperience in its leadership, with "half a dozen leaders" since 2007, many of whom "had never spent a minute in the industry," Lafley said. The division also deviated from the customer focus that works well in its other businesses, he said.
"We started thinking of ourselves as a beauty company," Lafley said. "We spent all our time at the Oscars, the Grammys or Fashion Week."
Before it's here, it's on the Bloomberg Terminal.
LEARN MORE