New York Attorney General Calls for Tighter Rules for Lawmakers
Christie Smythe and Freeman Klopott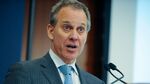 New York Attorney General Eric Schneiderman proposed longer terms along with stricter rules for state lawmakers after the arrest of former Assembly Speaker Sheldon Silver on federal corruption charges.
Speaking Monday at New York Law School in Manhattan, Schneiderman listed ethics reforms that went beyond those advocated by Governor Andrew Cuomo, a fellow Democrat. Cuomo, who introduced his own package of reform measures in conjunction with the $141.6 billion budget he proposed in January, should press for "bolder" changes, Schneiderman said.
Legislators' terms should be extended and they should be barred from taking on outside work, he said.
"We must break a pattern in which scandal is followed by outrage, which is followed by reforms that largely tinker at the margins," and then is ultimately followed by another scandal, Schneiderman said during an anti-corruption forum held by the group Citizens Union.
Silver's Jan. 22 arrest on charges that he ran kickback schemes that netted almost $4 million over 15 years has roiled Albany, the state capital. Silver lost the post he held for more than 20 years and lawmakers and the governor have been scrambling to move forward with new ethics regulations as Manhattan U.S. Attorney Preet Bharara warns of more arrests to come.
Schneiderman, a former state senator, also wants to improve lawmakers' pay while capping their expenses.
'Breathing Room'
Power should shift from longtime legislative leaders to individual lawmakers, he said. Lengthening terms to four years from two would "give the legislature breathing room" and allow individual lawmakers to "focus more on the serious work of governing," Schneiderman said. Changing the length of elected terms would require a constitutional amendment.
"Most of us are guilty of being too easily pacified by incremental reforms in the past," Schneiderman said. "The people of this great state demand comprehensive fundamental reform."
The case against Silver, also a Democrat, was brought by federal prosecutors after Cuomo disbanded a state anti-corruption panel he had created, saying that it had achieved its goal.
Silver pleaded not guilty to corruption charges last month and his lawyer accused Bharara of undermining his right to a fair trial by whipping up a "media firestorm." Silver, 71, a lawyer and one of the most powerful politicians in New York for more than two decades, stepped down as speaker following his arrest.
Part-Time Counsel
One fraud charge against Silver stems from his part-time job as counsel to New York-based Weitz & Luxenberg PC, which specializes in lawsuits on behalf of workers exposed to asbestos. Silver, like most members of New York's legislature, was allowed to do outside work while serving in office.
Silver is also accused of pointing real-estate developers with business before the state to another law firm. The developers paid the law firm millions of dollars in fees while the firm in turn secretly routed $700,000 in payoffs to Silver, disguised as legitimate legal fees, according to prosecutors. Silver is accused of using his office to shepherd legislation sought by the developers without doing any work for the clients.
Cuomo earlier proposed reforms including a constitutional amendment to require state officials convicted of public corruption to forfeit their pensions, public financing of election campaigns and stronger rules on donor disclosure. Under current rules, lawmakers are required to list a range of income, without providing details of how they earned it.
The case is U.S. v. Silver, 15-cr-00093, U.S. District Court, Southern District of New York (Manhattan).