Netanyahu Brings Out the Big Gun: Chuck Norris
The martial arts star appears in a new campaign ad for the embattled Israeli prime minister.
By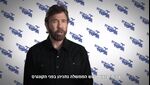 His Likud party trailing in the polls, Israeli Prime Minister Benjamin Netanyahu tried giving a speech before the U.S. Congress. He promised that Palestinians would never be granted statehood if he was reelected. But now, with hours remaining before Israelis head to the polls, Bibi is bringing out the biggest gun of all: Chuck Norris.