N.Y. Thruway Authority Has Bridge to Build and No Plan to Pay
Freeman Klopott and Martin Z. Braun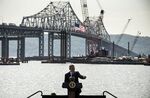 President Barack Obama used a photo of the Tappan Zee Bridge on his budget book last month to symbolize effective government. The New York agency building a $4 billion replacement span presents a different picture.
The Thruway Authority hasn't publicly disclosed plans for how it will pay for the new Tappan Zee across the Hudson River, one of the nation's biggest infrastructure projects. Its top two executives resigned abruptly on New Year's Eve, the state inspector general is probing the agency and unions representing thousands of workers have been without contracts since June 2012.
The agency has an almost $5 billion debt load, and Standard & Poor's said in November that it may cut the authority's rating if it doesn't maintain debt-service coverage and liquidity. Dysfunction at the agency came into focus in November when more than 100 motorists were stranded on the Thruway, some for as long as two nights, after a blizzard in the Buffalo area. Drivers and some local officials blamed the authority for not closing access sooner.
"The response was just plain awful," said state Senator Michael Ranzenhofer, a Republican whose district runs from Buffalo's eastern suburbs to Rochester. "People are tired of the incompetence."
Toll Quandary
Governor Andrew Cuomo, a Democrat, is trying to keep the authority from becoming a political liability. After business groups blasted a proposed toll increase for trucks in 2012, he found a way to avoid it by having the state pay for policing the 570-mile roadway. In his proposed 2016 budget, Cuomo wants to spend $1.3 billion of an almost $6 billion haul from legal settlements with banks to ease the authority's fiscal woes.
He also put his former budget director, Bob Megna, in charge of the authority. Megna oversaw New York's first four on-time budgets since 1977, helping Cuomo close more than $12 billion in deficits in his first term. Former Executive Director Tom Madison and Chief Financial Officer John Bryan resigned Dec. 31, a few weeks after Chairman Howard Milstein departed.
It may take more than a change in top management to satisfy Dan Solender, who helps manage about $17 billion at Lord Abbett & Co., including Thruway bonds.
"It's always good to see signs that there's effort being put in to structure things on the personnel side," said Solender, whose firm is based in Jersey City, New Jersey. "It's a secondary factor to what they come up with to pay for it all."
Rating Cut
In December, the Thruway Authority approved a $1.7 billion budget with a deficit of about $25 million. The gap is projected to grow to $300 million in 2018, budget documents show. The authority's traffic and revenue adviser, New York-based Jacobs Civil Consultants Inc., said in December 2013 that a toll increase will be needed to close the deficit and maintain debt-coverage ratios required by bond covenants.
In October 2013, S&P lowered the authority one step to A, the sixth-highest grade, citing the lack of a plan to pay for the Tappan Zee replacement and the associated debt that could overload the agency. The company said in November that it's unlikely to boost the thruway's rank within two years because of its debt needs and potential reliance on rate increases.
The authority has already issued $1.6 billion in junior bonds for the bridge, which will be repaid by a federal loan. It now has $4.9 billion in debt and only about half the funds needed to build the new span.
The authority has declined to release a full accounting of how those costs will be covered. The budget the state Assembly introduced March 10 proposed that no state aid be directed to the Tappan Zee project unless the agency provides more details on its financing.
Plans to build a replacement for the 59-year-old Tappan Zee, which connects Rockland and Westchester counties north of New York City, languished for more than a decade until Cuomo took over the project and, with help from Obama, quickly won federal approval and then obtained the loan. The governor has compared the scope of the project to the construction of the Erie Canal in the 19th century.
Labor Contracts
Megna told lawmakers Jan. 29 that he'll close the agency's deficit in 2015 by cutting operating expenses and using some of the $1.3 billion from Cuomo to cover capital costs, though most of that will go to the Tappan Zee replacement. In a statement e-mailed March 12, Megna said he hasn't determined how the full amount would be allocated.
"I am reviewing all aspects of Thruway finances," Megna said. "By cutting expenses and carefully reviewing our capital program, we can eliminate our deficit."
Megna will also have to find a way to settle outstanding union contracts. About 800 employees represented by the Civil Service Employees Association, the state's largest public-workers union, have been without a contract since June 2012. More than 2,000 toll collectors and road workers are also working without a pact.
In 2013, the CSEA sued the agency, saying the firing of 202 workers while sparing political appointees violated the U.S. Constitution's protections for speech and equal protection. The suit is in the discovery phase. Megna declined to comment on the case.
Blizzard Complaints
Cuomo, 57, appointed Megna at a time when legislators and upstate residents were irate over the blizzard response. Megna said he's put together a team to assess what went wrong and find fixes. The storm dumped more than 5 feet (1.5 meters) in Western New York.
The New York Daily News reported last month that the inspector general is looking at Thruway employees' use of government mobile phones to arrange trysts with prostitutes.
"I have heard there is an investigation, and if and when there is information requiring action, the appropriate actions will be taken," Megna said by e-mail.
Meanwhile, lawmakers said they're happy to have Megna at the helm as they face the possibility of political backlash that would accompany a toll increase.
"We all know your budgetary expertise is essential today at the Thruway Authority," Senator Tim Kennedy, a Buffalo-area Democrat, said at the Jan. 29 hearing.
Before it's here, it's on the Bloomberg Terminal.
LEARN MORE