Geena Davis Is Still Locked And Loaded
Twenty-four years after "Thelma & Louise," an original Hollywood dangerous female is still trying to change how the movies—and America—see women.
By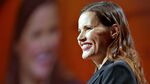 Thelma Dickinson, as in Thelma & Louise, is the best role Geena Davis ever read. She got the part, lucky stars be thanked, and when the film came out, 24 years ago this May, critics loved it, too. The idea was that Davis and Susan Sarandon would inspire a new era for women onscreen. But the forecasted flood of lady buddy movies did not materialize. In fact, Davis says, public reaction was more like the opposite, with folks—mostly male folks—near distress at the prospect of armed and rebellious women. (She tartly summarized the response: "The world is ruined now, because women have guns.") The following year, Davis starred in A League of Their Own, and people predicted a crop of female sports movies. Again, not so much.