politics
Geena Davis Is Still Locked And Loaded
Twenty-four years after "Thelma & Louise," an original Hollywood dangerous female is still trying to change how the movies—and America—see women.
By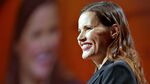 Thelma Dickinson, as in Thelma & Louise, is the best role Geena Davis ever read. She got the part, lucky stars be thanked, and when the film came out, 24 years ago this May, critics loved it, too. The idea was that Davis and Susan Sarandon would inspire a new era for women onscreen. But the forecasted flood of lady buddy movies did not materialize. In fact, Davis says, public reaction was more like the opposite, with folks—mostly male folks—near distress at the prospect of armed and rebellious women. (She tartly summarized the response: "The world is ruined now, because women have guns.") The following year, Davis starred in A League of Their Own, and people predicted a crop of female sports movies. Again, not so much.
Davis began to discern a pattern—minor boom, bigger bust. In the summer of 2008, Mamma Mia and Sex and the City came out; three years later brought us Bridesmaids and The Help. Each time, the papers said that the conversation would change. But the industry is stubborn. "Even when there's a movie like The Hunger Games, that's wildly successful and stars a female character," Davis said, "this shadow hangs over Hollywood, this idea that women will watch men but men won't watch women." Jennifer Lawrence herself may not have the translational momentum to assassinate gender bias.
Speaking in a glass conference room adjoining a green room, sleek in black, white, and silver hoops, Davis might have been a still from the Getty Images Lean In collection. It was an all-day events marathon, from the glass offices of Bloomberg LP to the nearby United Nations, but she smiled broadly. I wondered where she got all the stamina and cheer.

Davis was never not aware of the women's ghetto. (Her first screen role, cast by Sydney Pollack after some time spent modeling, was Tootsie, where she stood in her underwear next to Dustin Hoffman, in drag, in a thick turtleneck.) That's why she signed on to the unusual, even offbeat, parts that came her way. "I was in The Fly, I was in Beetlejuice, anything with a bug in the title," she told me. "I was attracted to those parts because they weren't just the girlfriend of the person having the experiences."
"I would much rather play the baseball player than the girlfriend of the baseball player," she said. (So long as she's got the means, that is. She joked, "If you hear I've signed on to play Sean Connery's comatose wife—I think that's the right age—you'll know I'm broke.")

But while Davis sought interesting female roles for herself, she was not preoccupied with a dearth across the industry. It wasn't until she had a daughter, she said, and started watching kids' movies with her, that the lack became clear. Davis noticed how few female characters appeared—sometimes only a mother, and it was weirdly common for that mother to die in the first scene. ("If we want to actually achieve parity," she ribbed, "we have to start killing fathers.") Davis canvassed, and realized her friends weren't noticing, either. "And when I started bringing it up within my industry," she said, "it wasn't just that they weren't noticing, they were sure that the problem had been fixed."
Davis, professionally positive, certainly understands that thinking. She told me that, as a kid, she used to watch the animated Warner Brothers show Looney Tunes. "Looney Tunes has 12 characters," she said, "and one of them is female, Granny." (That's the one who owns Tweety Bird, puts him in a—gilded—cage, and, Davis reminded me, beats up Sylvester.) "Winnie the Pooh," she went on. "Nine characters, and one of them is female—Kanga, the mom, who doesn't do any of the fun stuff."
"It's everywhere," she said. "Because it's the ratio you grew up on, you don't notice, you don't think about it. I don't remember ever watching Looney Tunes and thinking, where's all the female characters? But when I watched with my daughter, I noticed."

This is why she launched the Geena Davis Institute on Gender in Media, which has amassed the largest body of research on gender dynamics in the entertainment industry, looking across 20 years and 11 countries. According to their research, which is supported by the University of Southern California, the Rockefeller Foundation, and UN Women, comments about a character's appearance in films worldwide are directed at females five times more frequently than they are at men. The institute noted that "there is virtually little or no difference in the sexualization of female characters between the ages of 13 and 39 years." In the U.S., under 30 percent of characters are female, and there were 3.4 male filmmakers to every one woman (for U.S./U.K. movies, it's 4.7 to one. In France, 9.6 to one). Eighty percent of the media consumed worldwide is exported from America, and 80 percent of our characters are male.
In all the films examined, 90.5 percent of high-level politicians were men. (There were more fictional female monarchs. But in all the movies examined, only three "governed at the very apex of political leadership." Of these, one was a representation of German Chancellor Angela Merkel—an unspeaking representation.) Eighty-six percent of people in the C-suite were men, as were 88.7 percent of employees portrayed in business/finance, 70.6 percent of academic administrators, 83.8 percent of studio heads and agency partners, and 100 percent of religious leaders and partners in law firms.

Interestingly enough, every news director portrayed in the films examined was female, and 40 percent of journalists—a percentage far higher than any other profession. (Victory for the industry, I thought, then quickly remembered an article by Marin Cogan about women journalists in screen vehicles like House of Cards, Nightcrawler, Top Five, How to Lose a Guy in 10 Days, and Thank You for Smoking portrayed as "slutty ambition monsters.")

Davis informed me that crowd scenes, on average, have about 17 percent women. This made her wonder, "Could progress for women stall out through all sectors of society when we recognize that ratio as normal?" She told of being on the set of Stuart Little, a scene in which children where playing with remote-control boats. The assistant director was handing out the remotes, and handed them all to boys. She approached him and asked, why not give half the remotes to girls? He was embarrassed. "It doesn't occur to people," she said. Visiting every film studio, every guild, Davis now considers her work. "We're making it occur to people."
Davis says she's closely tied to Disney, and that they've hired her as a gender consultant at theme parks. Davis said she likes the turn that princess tales are taking: it's not always the prince's kiss that saves, but the love of a mother (Maleficent) or sister (Frozen—Disney on Thursday announced plans to produce a sequel to Frozen). But there's still the peer pressure to contend with—at one point or another, little boys decide that it's not okay to like Frozen or Dora the Explorer. This leaves Davis dumbfounded: "We're teaching that half the population is not cool." But she is certain, when it comes to entertainment, that "boys will like girls if they're doing interesting things."

The feeling that female characters or female matters are for only women is reflected among older men, too. Davis said that she recently hosted a Hollywood seminar on gender for casting directors: 100 people showed up, she said, 99 women. "We should've called it 'Hot Chicks in Hollywood.'"
"It's not malice," she said. But men hear the word "gender" and tune out, turn off. 
This sort of thinking affects girls, too, from a young age. The more hours of TV a girl watches, Davis said, the less she thinks she can do in life.
Davis told me she uses "mitigating language" while watching movies with her kids, posing questions like, "Why do you think she's wearing that, if she's going to rescue someone?" Her kids roll their eyes, she laughed. But they seem to get it.
Film, of course, has been Davis's medium for decades; this helps explain her activism there. (Davis is launching a film festival in Bentonville, Ark., in May, with the aim of highlighting gender and racial diversity in film.). There are a million avenues a feminist can take, and efforts must come together. But she makes a salient point about film: that it's easier to change visibility on a screen than anywhere else.
"The research shows that companies that have more women on boards make more money, yet there hasn't been a sea change yet," Davis told me. "The one area where there's a huge gender disparity that can change literally overnight is onscreen. It's going to take a long time to get Congress half women—no matter how hard we work at it, and we have to work at it, and continue to put pressure there. But the next movie someone makes can be gender-balanced. The next TV show somebody creates, there can be women in all kinds of unusual careers. And life will imitate art, it definitely will, we know that."
She said, "When I was the president on a TV show a while back [Commander in Chief ran from 2005-2006], a study showed that people were 68 percent more likely to vote for a female candidate for president by being familiar with that show. It was only on for one year, but just seeing me behind that desk made it seem familiar and doable."
She said, "The number of women studying law and medicine is now higher than men—think of all the legal and medical shows that are on television. Female forensic science as a career goal for women has skyrocketed—think of all the CSI shows."
"Seeing something can translate into women wanting to become that," Davis said. "I feel very confident that within, let's say, 10 years from now, we can dramatically change the percentage of female characters and what they're doing onscreen. Which will then impact what happens in real life. It's very hard to make these changes unless we're seeing in the culture."

Davis said that male writers sometimes express fear of drawing female characters, as though feminists will crack down if a character isn't brilliant, beautiful, perfect. ("Are we that organized?" Davis quipped.)
But it often comes down to crossing out a male name and replacing it with a female one: not writing a character that could only be female. Female oil driller, why not?
She said that she often comes down to adding four words into a script: "SCENE: A board room, which is half female." "A crowd gathers, which is half female."
And just like that, "Bam, it's done. Then it'll look normal."
Before it's here, it's on the Bloomberg Terminal.
LEARN MORE