Exxon CEO Said to Visit Moscow Amid Talk of More Sanctions
Stephen Bierman and Elena Mazneva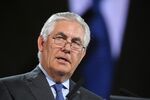 Exxon Mobil Corp. leader Rex Tillerson is visiting Moscow this week for meetings with Russian oil producer OAO Rosneft and government officials amid talk of further sanctions, according to people familiar with the matter.
The chief executive officer, who increased Exxon's drilling rights in Russia fivefold last year, has preliminary plans to meet with officials on Wednesday, said two of the people who asked not to be identified because details of the visit are confidential. Exxon declined to comment, saying the travel plans of its executives aren't public.
The trip comes even as the U.S. and Europe consider further sanctions on Russian companies and individuals over the annexation of Crimea one year ago. Exxon snapped up millions of acres in Russia last year, including in the Arctic, where its venture with Rosneft hit oil with the first well drilled. Exxon, BP Plc and Royal Dutch Shell Plc all continue to walk a fine line between the West's political tensions with Russia and that nation's long-term potential for oil and natural gas production.
Ventures with Rosneft to tap the Arctic offshore and Russian shale were halted by sanctions last year. Exxon said last month that sanctions may cost it as much as $1 billion. State-owned Rosneft declined to comment on Tillerson's visit.
Other Partners
BP has a 20 percent shareholding in Rosneft, while Shell, Europe's largest producer, is a partner in the Sakhalin gas-export project.
Last year, Christophe de Margerie, then head of France's Total SA, was killed when his jet crashed while taking off from a Moscow airport. The company is investing in a liquefied natural gas plant in northern Russia.
As well as their exploration projects, Rosneft and Exxon have a project producing oil from the ice-choked Sea of Okhotsk off the coast of Sakhalin in Russia's Far East.
Exxon boosted its Russian holdings to 63.7 million acres in 2014 from 11.4 million at the end of 2013, according to data from U.S. regulatory filings. Last year's additions were the culmination of preliminary agreements signed with Rosneft in 2011 and 2013. Exxon's Russian position now dwarfs the 14.6 million acres of rights it holds in the U.S., until last year its largest exploration prospect.
Tillerson helped establish the company's presence in the country as a production vice president in the early 1990s. He met Russian President Vladimir Putin for the first time in 1999 when the politician's flight to Japan made a stopover at Sakhalin.
The visit would coincide with the March 18 anniversary of Russia's annexation of Crimea, which started the political crisis with the U.S. and Europe. Planning for meetings with government officials Wednesday may be influenced by events marking the anniversary, one official said.
German Chancellor Angela Merkel said Monday that the European Union would consider imposing further sanctions this week if there's a major violation of the cease-fire in eastern Ukraine.
Before it's here, it's on the Bloomberg Terminal.
LEARN MORE