Political Extremists Turn to Coded Language to Win Elections in Europe
Svenja O'Donnell and Mehul Srivastava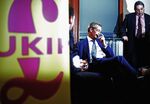 Not so long ago, the U.K. Independence Party was dismissed by a future prime minister as a bunch of "closet racists," Danes were embarrassed to admit that they voted for the anti-immigration Danish People's Party and France's National Front finished third in 2011 local elections.
How quickly the tide rises.
This year, UKIP could win about 15 percent of the vote in the U.K.'s May polls, while forcing a national reckoning on immigration. The Danish People's Party will probably be the largest political party in soon-to-be-announced elections. And polls show the National Front running neck-and-neck for first in the popular vote in local elections that begin March 22.
How in Europe, a bastion of western liberalism, have a handful of stridently anti-immigration and anti-European Union leaders managed to burst from the margins of civil discourse to the gates of political power?
The common threads are a sense of voter insecurity in the aftermath of the European debt crisis, the failure of established leaders to create an alternative vision and, most important, the decision by the extremist parties to begin speaking in more muted language. They rely on code words to evoke surrogate issues such as welfare or national identity.
They criticize immigration, not immigrants. They speak of national values, not of religion. In Denmark, the People's Party used halal food to raise questions about Danish values. In the U.K., stopping immigrants from perceived abuse of the National Health Service has become an electoral linchpin.
"The change in rhetoric is about getting a mainstream audience and getting a hearing in the media. Otherwise these parties get demonized or shut out," said Adrian Pabst, who teaches politics at the University of Kent. "There is an active scaremongering, but it's also a reflection of popular fears and real concerns with how indigenous workers perceive their future."
UKIP Recruit
Those concerns are visible in Dudley, a town in England's West Midlands where on a center-city street a halal butcher sits near a carpet store and a snooker club. Eric Hadley, 57, a lifelong supporter of the Labour Party, sat in the Court House pub last month and said UKIP would get his vote for the first time. Labour wasn't interested in his concerns, he said.
"They won't talk about immigration," he said, a beer in front of him. "It's not about racism. It's about people feeling they're no longer being listened to and are no longer getting the care they deserve. I have no problem with people coming over, from whichever country, if they've got a job. What I mind is people coming over to claim benefits."
In fact, said Philippe Gudin, Paris-based chief European economist at Barclays Plc, Europe needs immigrants to make the economic machine hum, and free movement across EU borders is part of that. Undermining the EU is bad for everyone, he said.
Brussels Blamed
"This is a story about the future of Europe," he said in a phone interview. "Europe has been blamed for the weak economic situation, which was a big mistake on the part of politicians. Politicians are putting the blame on Brussels -- especially extreme parties, far left or far right."
Europe sits today on an exposed vein of anxiety: Voters distrust the political elite, fear losing their vaunted standards of living and fret over the dwindling of once-generous benefits. The opening of borders after eastern European countries such as Poland and Bulgaria joined the EU also increased the perception that immigration is a threat.
Many leaders, including the U.K.'s David Cameron and French President Francois Hollande, have stumbled in their responses, ceding authority on these questions to their upstart opponents. The same can be said for Labour in the U.K., according to Andrew Hawkins, chairman of polling firm ComRes Ltd.
Zero-Sum Game
"The two main parties are frightened to take the issue on. At best it's a zero-sum game, at worst it plays into the hands of their small-party opponents," Hawkins said. "The main parties will run at 100 miles an hour in the opposite direction as it's politically toxic. This will only reinforce the disconnect felt by voters between themselves and politicians. The public is dissatisfied and politicians aren't taking it seriously."
In Heywood and Middleton, a constituency near Manchester, one-time Conservative voter John Bickley, 61, son of a Labour activist, is counting on that dissatisfaction to deliver him a parliament seat for UKIP. His party came in fifth for that seat in 2010 and second in a special election in 2014. Immigration tops the list of voter concerns here, he said.
Voter Worries
"People worry about it because they worry about wages going down, they worry about social cohesion. And they genuinely feel like they're being treated like second class citizens," he said over a cup of tea near UKIP headquarters. "They perceive that people are getting access to benefits, housing and other things yet they seem like they've arrived yesterday."
Four years before he led his Conservative Party to victory in the U.K., then-party leader Cameron dismissed UKIP in 2006 as a "bunch of fruitcakes, loonies and closet racists." Now, as the May elections threaten to produce a hung parliament, he and senior Tories haven't categorically ruled out the possibility of an alliance with UKIP. And Cameron has promised if re-elected to call a referendum by the end of 2017 on whether the U.K. should stay in the 28-member EU.
In Dudley, Steve Aston, the 59-year-old owner of the Cornerstone cafe, used to vote Conservative. On a recent day, he watched over his regulars -- white, English and mostly retired, choosing between rock cakes and pineapple sponge cake with custard -- and said he intended to vote for UKIP.
Floodgate-Closing
"Consensus round here is we want to be out of Europe so there's less of a problem," he said. "We need to close the floodgates."
Talking about proxy issues such as an endangered national identity, perceived abuse of social benefits and immigrants taking jobs has helped shield the new parties from accusations of racism that in the past helped consign them to bit players.
"These discussions of welfare and social cohesion expose them far less to being dismissed as racists than a discussion on Islam or ethnic minorities," said Susi Meret, a professor at Denmark's Aalborg University who does research for its Center for Study of Migration and Diversity.
In Mantes-la-Ville, 50 kilometers (31 miles) west of Paris, Cyril Nauth, a 33-year-old ex-schoolteacher who joined the National Front in 2010, defeated the incumbent mayor last March.
Party leader Marine Le Pen has expanded the reach of the party since it was founded five decades ago by her father, Jean-Marie Le Pen, by emphasizing immigration over religion, wiping all traces of anti-Semitism from the party's message and promising to take France out of the euro. Le Pen could end up as one of two candidates facing off in the second round in France's 2017 elections, some polls show.
No Mosque
Religion and ethnicity remain touchstones in Mantes-La-Ville. Shortly after his election, Nauth blocked the planned sale of a government building to a Muslim association that wanted to turn it into a mosque. Stopping the deal was a campaign promise and the building didn't comply with regulations, he said.
For Catherine Bernard, a 43-year-old housewife who said she may vote for the National Front in elections for assemblies of 97 of France's 101 departments, immigration is a winning issue.
"There are too many foreigners in France," said Bernard as she headed to the bakery, adding that she likes Le Pen because she is a female candidate. "Someone has to say it, and no else has the guts to."
French Teacher
Nauth said his position on Muslim immigrants was forged during his years teaching French, history and geography to the high-school-age children of immigrants, mostly from Algeria, Morocco, Mali and Senegal. It opened his eyes, he said, to the "ravages, the negative consequences of immigration."
"Some of them graduate barely able to speak French, and come from homes where they don't speak French," he said. "The reality is, people don't want to live together. They separate."
At Rani Coiffure, a short walk from the town hall, Rani Hamdini, the Algerian-born owner of the hair salon, said he hopes his application for French citizenship comes through soon enough for him to vote against the National Front.
"The beast may have changed its skin, but underneath, it's still the same," he said, speaking fluent French with an Algerian accent. "I have been in France for seven years. My wife is French, my daughter is French. I am integrated. But this rise of the National Front worries me. I worry for my child."
In Denmark, the People's Party has found success in deploying a carefully curated message that keeps voters focused on immigration by a direct appeal to keeping Denmark as Danish as possible.
People's Party
An hour away from Copenhagen, at the end of a dirt road, Soren Espersen, the deputy chairman of the Danish People's Party, pours coffee and offers a sliced donut in the kitchen of his six-bedroom, 237-year-old home. His first pangs of unease at the idea of large Muslim communities within Europe came in the late 1980s, he said, when, as a freelance journalist, he watched Muslim groups in London protest Salman Rushdie's controversial novel, "The Satanic Verses."
After he returned home, he joined the newly formed party in 1995. It had begun as an anti-tax movement and evolved into opposing unchecked immigration by the late 1990s. In the 2001 elections, when Espersen was in charge of the party's media department, it came in third and helped prop up a minority government.
Exit polls under-represented the party's support vote by as much as five percentage points. That's because people were convinced by the party's message but embarrassed to admit to voting for it, according to Espersen.
Muddy Message
That's when he realized that the party's message could easily be muddied, and thus disregarded, if leaders weren't careful to avoid opportunities to be dismissed as racist.
"The opinions we have on limiting immigration can very easily appeal to total extremists -- where else would they go? Who else would they support?" he said. "With immigration, it's such a sensitive area to be in that you have to weigh every word you say on a golden scale, and it's difficult for some people to understand that."
The party started expelling the most extreme and indelicate of its members. Leaders reshaped their argument around whether Denmark can remain Danish if it keeps letting in immigrants who share completely different ideologies than native Danes.
In local elections in 2013, the party seized upon a very visceral image: halal meals were being served in a few nurseries around the country to accommodate the religious needs of Muslim toddlers. For meat to be halal, the animal has to be culled while conscious, and the process has to be approved by an imam.
Halal Ban
The party won 10 percent of the overall vote, and several mayoral races, including Copenhagen. In national elections planned for later this year, the party is currently polling at 20 percent of the national vote, ahead of its opponents.
In 2014, Denmark's parliament banned both kosher and halal meat production.
"People haven't branded us racist, the elite have," Espersen said. "I never hear that when I am out, but I certainly read that in the newspaper. It's a brand mark you put on people in order to silence them."
On a recent night in Copenhagen's Meatpacking District, the halal issue still resonates. As Arham Yildiz, a 23-year-old Danish-born son of Turkish immigrants, waited for customers outside his taxi near a restaurant, a visibly drunk man approached.
"No halal food for you here," the man joked. Yildiz laughed it off, telling the man his favorite snack is a meatball. Later, while driving past the Tivoli Gardens, he admitted his frustrations.
"I am never going to be Danish, not for him," he said. "Why? Because my sister wears a hijab. Because I don't eat bacon. But of course I am Danish. I was born here."
Before it's here, it's on the Bloomberg Terminal.
LEARN MORE