Will Jeb Bush and Hillary Clinton Play to a Draw on E-Mail Issues?
Like Hillary Clinton, the former Florida governor's use of a private e-mail account and server is raising eyebrows.
By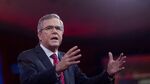 E-mail use is poised to be a hot topic in the 2016 presidential election, and Hillary Clinton is currently in the hot seat. But while Jeb Bush has criticized Clinton for possibly causing security vulnerabilities, he may also have to answer for his own e-mail use. 
Two analyses of the e-mails Bush released in December, one by the Associated Press and one by the Washington Post, raise separate sets of questions, regarding ethics and security. 
According to the Associated Press's analysis of Bush's released e-mails showed that he was in regular contact with campaign donors, who would make suggestions including their input on judge appointments:
Bush spokeswoman Kristy Campbell said it was not uncommon for the public to make such suggestions to Bush and the recommendations were routed "through appropriate channels."

Did fundraisers carry special influence? "No. Absolutely not," Campbell said. She did not respond to AP's questions about specific emails involving two fundraisers, but one of them, Mark Guzzetta, said Bush denied his requests just as frequently as he granted them.

"We always joked it would be better to be a stranger with no connection," Guzzetta said. "He was so deliberate because he wanted to make sure we received no special favors."
Bush, like Clinton, also decided which e-mails were personal and which were professional before making the latter ones public, according to the AP. Bush has said that he's released roughly half of the e-mails he sent while he was governor, according to the Post.
Bush has joined in on the Clinton criticism when it comes to security. A review by the Washington Post showed that Bush used his private e-mail to discuss security issues when he was governor. After September 11, 2001, he used it to discuss troop deployments. 
The e-mails include two series of exchanges involving details of Florida National Guard troop deployments after the Sept. 11, 2001, attacks, the review by The Washington Post found.

Aides to Bush said Saturday that none of the e-mails contained sensitive or classified information, and that many of the events mentioned in them were documented in press accounts, either contemporaneously or later. But security experts say private e-mail systems such as the one used by Bush are more vulnerable to hackers, and that details such as troop movements could be exploited by enemies.
Bush also used his own server while he was governor, said did not cause security issues because it was housed in his office, the Post reported. Yet Bush, whose next scheduled e-mail release will form the backbone of a forthcoming memoir, has worked hard to differentiate his own use of the technology from Clinton's:
Immediately after news broke March 2 about Clinton's use of a private server, Bush faulted her for not releasing her e-mails from her time as secretary of state, writing on Twitter that "Transparency matters." He later raised concerns about Clinton's decision during an interview with Radio Iowa.

"For security purposes, you need to be behind a firewall that recognizes the world for what it is, and it's a dangerous world, and security would mean that you couldn't have a private server," he said. "It's a little baffling, to be honest with you, that didn't come up in Secretary Clinton's thought process."

On Friday night, after a meeting with potential supporters, Bush was asked to respond to criticism that he, like Clinton, was allowed to self-select which e-mails should be turned over for archiving.

"I was way too busy to decide," Bush said, before clarifying that his general counsel was among those involved in selecting which e-mails to turn over.

"It was a process that was based on the law itself, and we complied with the law and all during this time we've complied with the law, even in my post-governorship," he said.