Will Jeb Bush and Hillary Clinton Play to a Draw on E-Mail Issues?
Like Hillary Clinton, the former Florida governor's use of a private e-mail account and server is raising eyebrows.
By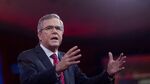 E-mail use is poised to be a hot topic in the 2016 presidential election, and Hillary Clinton is currently in the hot seat. But while Jeb Bush has criticized Clinton for possibly causing security vulnerabilities, he may also have to answer for his own e-mail use.