U.S. Upping Pressure on Assad to Negotiate Peace, Kerry Says
Indira A.R. Lakshmanan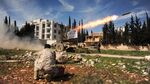 The U.S. is engaged in behind-the-scenes efforts with allies to persuade Syrian President Bashar al-Assad to negotiate an end to the civil war entering its fifth year, Secretary of State John Kerry said.
The top U.S. diplomat, in an interview with CBS News, suggested Assad could be involved in peace talks and didn't repeat the Obama administration's longstanding refrain that "Assad must go."
Kerry spoke on the eve of Sunday's anniversary of Assad's lethal crackdown on popular uprisings, which sparked the war that has claimed more than 210,000 lives.
Just because the U.S. isn't invading Syria to oust Assad doesn't mean it's "not doing something," he said in the interview, which is scheduled to be broadcast on CBS's "Face the Nation'' program Sunday. "And the fact that there isn't something visible to the eye every day right now doesn't mean we haven't upped what we're doing."
In addition to helping the moderate opposition, the U.S. is pushing for talks involving Assad "because everybody agrees there is no military solution; there's only a political solution," Kerry said.
Asked if he would negotiate directly with Assad -- whom then-Senator Kerry visited in Damascus six months before the violent crackdown -- Kerry said if the Syrian leader is "ready to have a serious negotiation" about implementing an agreement made in Geneva in 2012, "people are prepared to do that."
"It may require that there be increased pressure on him of various kinds in order to do that," Kerry said in the interview from Egypt. "We've made it very clear to people that we are looking at increased steps that can help bring about that pressure."
Overwhelming Refugees
The overwhelming majority of victims in the conflict have been civilians; 3 million Syrians are now refugees in Jordan, Lebanon and Turkey. Calling it "one of the worst tragedies any of us have seen on the face of the planet," Kerry said the strain on neighboring countries that are hosting refugees and seeing spillover violence can't be sustained for much longer.
President Barack Obama declared in 2011 that "Assad must go" for killing peaceful protesters, and the next year, he warned Assad not to cross a "red line" by using chemical weapons against his own people. After evidence emerged that the Syrian military did so in August 2013, Obama considered and then decided against airstrikes on the Assad regime, opting for a negotiated deal, brokered with Russia, for Assad to give up his chemical-weapons stockpile.
The U.S. and its allies, including Turkey, Saudi Arabia and Qatar, have been supporting what they call the moderate armed opposition to Assad for the past few years while not committing their own forces.
Power Vacuum
In September 2014, Obama began airstrikes in Syria aimed at the extremists -- and Assad opponents -- who call themselves Islamic State.
While Kerry said a negotiated settlement to end the war is critical, it's less clear what might follow, now that Islamic State and al-Qaeda-affiliated militants dominate the armed opposition to Assad's rule.
"What we don't want to do is to allow those extremist elements" such as Islamic State, Jabhat al-Nusra and al-Qaeda to seize power from a collapsed regime, Central Intelligence Agency Director John Brennan told the Council on Foreign Relations in New York on Friday. "The last thing we want to do is to allow them to march into Damascus."
Before it's here, it's on the Bloomberg Terminal.
LEARN MORE