Philippines Plans Debt Swap, Repos to Revive Bond Trading
Clarissa Batino and Lilian Karunungan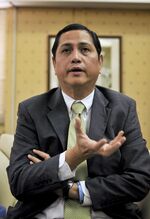 The Philippines plans a peso-denominated debt exchange to trim the number of its outstanding securities while seeking to let banks engage in bond repurchases to help reinvigorate the market, Treasurer Roberto Tan said.
The Treasury may offer two tenors of new securities with a size of at least 50 billion pesos ($1.1 billion) each in exchange for notes that are illiquid, infrequently traded, expensive and worth retiring, he said. A debt swap will boost trading volume, which dropped to a three-year low in 2014, and bolster demand for longer-term bonds as the U.S. prepares to raise interest rates, according to BDO Unibank Inc. and BPI Asset Management.
"The country's strong economic and fiscal fundamentals must be reflected in the secondary debt market, but the volumes have become volatile," Tan said in an interview Saturday at the central Philippine island of Mactan, Cebu. "We need to address this, push for initiatives to boost trading volumes and improve the yield curve."
The average daily trading volume in the Philippine peso bond market dropped in 2014 as the central bank's first interest-rate increases since 2011 curbed demand for the securities, said Jan Briace Santos, a Manila-based fixed-income portfolio manager at BPI Asset Management, a unit of the nation's second-largest bank. Philippine local-currency sovereign debt has delivered the lowest returns in Asia over the past three months, Bloomberg indexes show.
"The normal exercise is to swap the short-term papers for a longer-tenored paper," Santos said. "It's a prudent move because the cash flow would be more predictable in the government's case."
Fewer Securities
The target is to reduce the count of debt securities to below 100 by the end of the year, the treasurer said in a speech to the Fund Managers Association of the Philippines on March 13. A healthy domestic debt market is crucial as the government becomes less reliant on overseas borrowing and the nation's companies invest record amounts, Tan said.
"As the risk of higher interest rates in the U.S. rises, people are shifting to shorter tenors in a defensive move," said Jonathan Ravelas, chief market strategist in Manila at BDO Unibank, the nation's largest bank. "The government is trying to boost market liquidity and it's been successful."
Local Borrowing
The ratio of domestic borrowing to total debt may increase to 88 percent next year and to 89 percent in 2017 from a planned 86 percent this year, according to presentation materials e-mailed by Tan. Gross borrowing is projected to rise to 760.3 billion pesos in 2016 before easing to 688.1 billion pesos.
The average daily bond trading value fell to 18.2 billion pesos last year after exceeding 20 billion pesos in 2012 and 2013, according to data compiled by Bloomberg. While volumes recovered in January, they have since declined again, Tan said.
"There are days when volumes at the stock market are bigger, which didn't use to happen," said First Metro Investment Corp. President Roberto Juanchito Dispo. "It's good to see the Treasury taking a proactive role in reenergizing the debt market, which is the main source of funding of the government as well as the private sector."
Targeted Swap
The Philippines issued 140 billion pesos of 10-year bonds in August, its first debt exchange in three years. The country has issued more than a trillion pesos of bonds in debt swaps since 2006, often opening up the exchange to almost all securities, primarily to lengthen maturity and cut costs.
"This time, the debt swap will be more targeted," Tan said. "We will identify ISINs we want to retire and make them eligible for debt exchange," he said, referring to the International Securities Identification Numbers.
The Treasury is in discussions with the central bank and the Securities and Exchange Commission for the interbank Specials Repo program that will improve pricing of government securities, Tan said. The Bureau of Internal Revenue agreed in January to exempt the repos from documentary stamp tax as long as these are transacted on a "true sale basis."
"A repo will help address market pricing inefficiencies especially when interest rates are going up," said Deanno Basas, investment director at ATR KimEng Asset Management Inc. in Manila, which has about 90 billion pesos in assets. "Repos provide hedging alternatives which should deepen market liquidity."
Market Makers
The government will also establish a primary dealer system to create "market makers who will help provide liquidity" once the repo market is functioning, said Tan, 60, who returned as treasurer this year after a two-year stint as executive director at the World Bank.
In addition, the Treasury will probably decide today if the secondary market for bonds is ready to be opened to state-run pension funds and other tax-exempt companies that together hold about 800 billion pesos of sovereign debt, equivalent to about a third of the amount outstanding, Tan said. These investors will be allowed to buy and sell existing notes for the first time, something that was originally planned to begin in October.
There are no plans yet to sell new retail peso bonds or issue the remaining $500 million of overseas debt that's been approved for this year, according to the treasurer, who said there's no need for cash. The budget deficit was less than 30 percent of the 266.2 billion pesos ceiling for 2014.
Before it's here, it's on the Bloomberg Terminal.
LEARN MORE