politics
McConnell Says Human-Trafficking Bill Fight Could Hold Up Loretta Lynch Vote
The majority leader says the Senate must finish the human-trafficking bill before turning to President Obama's nominee.
By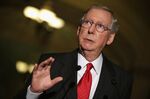 Senate Majority Leader Mitch McConnell said Sunday that a dispute over an anti-abortion measure in a human-trafficking bill could hold up attorney general nominee Loretta Lynch's confirmation vote.
If Democrats "want to have time to turn to the attorney general next week, we need to finish up this human-trafficking bill," McConnell of Kentucky said on CNN's State of the Union. "It's extremely important to the country."
Senate Democrats last week accused Republicans of sneaking the anti-abortion provision into the bill. Minority Leader Harry Reid said the provision should be taken out to ensure passage of a bill that otherwise has broad bipartisan support. Republicans dispute that the provision was snuck in, and McConnell said his majority "does not want to take the language out."
McConnell said last week that president's nominee to succeed Attorney General Eric Holder was expected to get a vote in the Senate this week.
"It sounds like you are threatening to hold up Loretta Lynch, who has been in limbo for months and months," host Dana Bash said.
"It's not a threat," McConnell said. "We need to finish this human-trafficking bill that came out of the Judiciary Committee unanimously. ... We need to finish that so we have time to turn to the attorney general because the next week we'll be doing the budget and the next two weeks after that, Congress is not in session."
McConnell said he has not decided yet how he will vote on Lynch's nomination.
On Monday, Democratic Senator Claire McCaskill of Missouri said McConnell's move "has to go in a category of, if the sun comes up, blame it on Obama."
"This woman is highly qualified, she prosecuted terrorists, she's a professional prosecutor, she did very well in her hearing," McCaskill said on MSNBC's Morning Joe. "They can't wait to say how much they can't wait to get Eric Holder out, but yet they're refusing to take up this nomination."
White House press secretary Josh Earnest said Republicans were playing politics with Lynch's nomination and called the delay "unconscionable."
"No legitimate question has been raised about her aptitude for this office," Earnest said at the White House. He said the holdup raises questions about McConnell's ability to "run the Senate in an effective fashion."
Toluse Olorunnipa and Justin Sink contributed to this report.
(Adds Earnest comments.)
Before it's here, it's on the Bloomberg Terminal.
LEARN MORE