Kentucky Eyes Championship Nets, 40-0 Record as NCAA Top Seed
Erik Matuszewski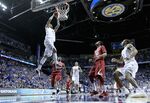 The Kentucky Wildcats are so focused on winning their ninth national championship and completing college basketball's first unbeaten season in 39 years, they forgot to cut down the nets in celebration of winning the Southeastern Conference tournament title.
The top overall seed in the National Collegiate Athletic Association tournament, the Wildcats are listed by oddsmakers as even-money favorites to finish a perfect 40-0 season and join teams such as Indiana in 1976 and UCLA in 1968 and 1972 as the best in the sport's history.
RJ Bell, the founder of Las Vegas-based sports betting information website Pregame.com, said he doesn't remember any team entering the NCAA tournament as overwhelming a favorite as the 34-0 Wildcats. Kentucky coach John Calipari said that record now doesn't matter.
"How many wins we have going in, or losses, everybody is 0-0 now," Calipari told ESPN after the selections. "Everybody is saying Kentucky can't lose. But this is a one-game shot now. A team could make 20 three-pointers and all of a sudden you're out."
Duke, Villanova and Wisconsin joined Kentucky as No. 1 seeds in the 68-team tournament field, which is spread across four geographic regions. Each region has a No. 1 seed. Duke and Wisconsin have 6-1 odds of winning the title, according to the Westgate Las Vegas SuperBook, while Villanova is listed at 8-1.
The tournament begins with two games in Dayton, Ohio, on both Tuesday and Wednesday. Full tournament play starts March 19, when Kentucky plays its opener, and runs through the championship game in Indianapolis on April 6.
Bracket Pools
Kentucky will probably be picked as the champion in the majority of bracket pools that will be filled out across the country before that. The American Gaming Association estimated that more than $2 billion will be wagered on bracket pools, with the total amount bet on the NCAA tournament topping $9 billion. Of that, about $240 million will be wagered legally at Nevada's sports books, according to the gaming association.
"I think I have the best team and the best players," Calipari said. "Does that mean we'll win? No, it doesn't."
Kentucky will face Manhattan College or Hampton University in its opening game in Louisville -- about 80 miles west of the Wildcats' campus in Lexington -- on March 19. While Manhattan is coached by Steve Masiello, who was a member of Kentucky's 1997-98 championship team, that game doesn't present much of a hurdle for the Wildcats. Top seeds have a 120-0 record in their tournament-opening games.
"They're the best team," ESPN college basketball analyst Jay Bilas said of Kentucky. "I think they're going to win the whole thing, but what's great is that it's not their skill-set right now that's the issue, it's their mindset. And I think Calipari has got their mindset in exactly the right place."
Forgot Nets
After beating Arkansas in the SEC tournament title game on Sunday, Kentucky skipped the traditional cutting of the nets.
" Those aren't the nets we're really looking to cut down," Junior forward Willie Cauley-Stein said afterward. "We're looking for something bigger."
Calipari said his team just forgot to cut the nets down.
Kansas has the toughest draw of the four No. 2 seeds, placed opposite Kentucky in the Midwest. The other top teams in Kentucky's region are No. 3 Notre Dame (29-5), No. 4 Maryland (27-6), No. 5 West Virginia (23-9) and No. 6 Butler (22-10).
CBS and Turner Sports analyst Grant Hill said the NCAA selection committee didn't do Kentucky any favors with the bracket.
"A potential Sweet 16 matchup with Maryland, a team that beat a No. 1 seed in Wisconsin," Hill said. "In the regional finals, they could go against Kansas or Notre Dame, who recently beat another No. 1 seed in Duke. If they're going to get to the Final Four, they're going to have to beat some good teams."
Undefeated Spoilers
Kentucky a year ago played spoiler as a No. 8 seed, knocking off a top-seeded Wichita State team in the second round that had entered the tournament with a 34-0 record. The Shockers were the first team to enter the NCAA tournament undefeated since the University of Nevada-Las Vegas in 1991.
Villanova (32-2) is the top seed in the East after winning its first Big East Conference tournament title in 20 years. Villanova, a No. 1 seed in the NCAA tournament for just a second time, takes a school-record 15-game winning streak into its opening game against Lafayette on March 19.
Villanova's top competition in the East includes second-seeded Virginia, which went 29-3 this season. Oklahoma (22-10) is seeded third, followed by Louisville (24-8), Northern Iowa (30-3) and Providence (22-11).
Regional Seedings
Duke (29-4) tops the South regional, the 13th time the Blue Devils have been a No. 1 seed in the NCAA tournament, second all-time to North Carolina. Duke will play either North Florida or Robert Morris on March 20 in Charlotte.
After Duke in the South are No. 2 Gonzaga (32-2), No. 3 Iowa State (25-8), No. 4 Georgetown (21-10), No. 5 Utah (24-8) and sixth-seeded Southern Methodist (27-6).
Wisconsin (31-3) is a No. 1 regional seed for the first time in school history after winning the Big Ten tournament title to set a school-record for victories. The Badgers face Coastal Carolina in their West regional opener on March 20.
Arizona (31-3) is the second seed in the West behind Wisconsin. Baylor (24-9) is the No. 3 team in the region, followed by North Carolina (24-11), No. 5 Arkansas (26-8) and No. 6 Xavier (21-13).
Ivy League-champion Harvard, making a fourth straight NCAA tournament appearance, is also in the West and will face North Carolina in its opener. Harvard (22-7) is trying to become the first Ivy League team with NCAA tournament wins in three consecutive years since Pennsylvania from 1978 through 1980.
Kentucky's focus is the nets in Indianapolis.
"Calipari's ability to keep this team fresh -- amongst all the chaos of the pursuit of perfection -- has been the most important thing because now he does get the best of his players," said ESPN college basketball analyst Seth Greenberg, who was a head coach at Virginia Tech, South Florida and Long Beach State. "They're a fresh basketball team going into the last 2 1/2 weeks of the season."
Before it's here, it's on the Bloomberg Terminal.
LEARN MORE