Japan Urges China Not to Fixate on Past as War of Words Heats Up
Bloomberg News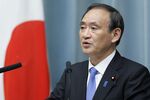 China should stop fixating on Japan's wartime past and focus on improving future cooperation, Japan's top government spokesman said Monday.
Japanese Chief Cabinet Secretary Yoshihide Suga was responding to a comment by Chinese Premier Li Keqiang who said yesterday that Japan should use this year's 70th anniversary of the end of WWII to improve "difficult" relations with China by facing up to its historical responsibilities for the conflict.
"It's not constructive for Sino-Japan ties to focus too much only on history," Japanese Chief Cabinet Secretary Yoshihide Suga told reporters in Tokyo. "China and Japan are the world's second- and third-largest economies, and it's important to develop a forward-looking co-operative relationship in response to the shared problems faced by international society."
Li called on Japanese Prime Minister Shinzo Abe to take responsibility "for crimes committed in the past" and the "untold suffering" that Japanese militarists caused. He made the remarks in response to a question by a Japanese journalist at the closing press conference of the National People's Congress in Beijing. It was the first time a Japanese reporter was called on at the annual NPC briefing since 2009.
War Shrine
Relations between Asia's two-biggest economies have soured under Japanese Prime Minister Shinzo Abe as a territorial spat has added to Chinese concerns that Abe is seeking to revive Japanese militarism. His 2013 visit to a Tokyo war shrine seen in China as a symbol of Japanese aggression and Abe's efforts to ease pacifist constraints in the constitution and boost defense have fueled Chinese suspicions.
In the latest sign of tension, Japan made a protest Monday to China over three Chinese coast guard ships entering Japanese territorial waters near disputed islands in the East China Sea, national broadcaster.
Abe plans to mark the 70th anniversary of Japan's surrender in August with a new official statement on the war, the first in a decade. Abe is weighing the wording and has hinted he may water down previous expressions of remorse in the declaration, risking an angry response from China, as well as South Korea, the two countries that suffered the most from Japan's aggression.
'New Opportunity'
"At such a critical moment this year there is both a test and opportunity for the China-Japan relationship," Li said. "If leaders in Japan can face history squarely and maintain consistency in how they view that part of history, there will be a new opportunity for an improvement and further growth of China-Japan relationship and it will also create favorable condition for growth in business relationships."
Suga preferred to focus on Japan's achievements in the 70 years since the war.
"Japan has reflected on the war, and has created a nation that is democratic, protects human rights and respects the rule of law," he said. "As a peaceful nation, Japan has greatly contributed to peace and development in Asia and the world, and countries across the world value Japan for that."
Tensions over the war may be contributing to a slowdown in Japanese investment in China, which declined to $6.7 billion in 2014, according to provisional data published by Japan's External Trade Organization on its website. That would mark a third straight annual decline since reaching $12.6 billion in 2011, Jetro said.
Beijing Parade
China plans to hold a military parade in September to mark its own commemoration of Japan's defeat, with world leaders invited to the event in Beijing. It will be the first time China holds a military procession other than on its national day holiday.
While Chinese officials have indicated they are open to inviting Abe to the commemoration, the site of the parade could further strain ties. Unlike regular military processions, which are held in Tiananmen square, the war commemoration will be done at the site Japan attacked in 1937 to trigger the Second Sino-Japanese War, two officials with direct knowledge of the plan, told Bloomberg last week. The site in the Lugouqiao area of Beijing is also home to the Museum of the War of Chinese People's Resistance Against Japanese Aggression.
— With assistance by Keith Zhai, and Ting Shi
Before it's here, it's on the Bloomberg Terminal.
LEARN MORE