Greece Makes IMF Repayment as Cash Reserves Running Dry
Eleni Chrepa and Nikos Chrysoloras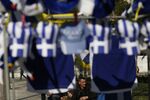 Greece repaid a loan due Monday to the International Monetary Fund, further depleting cash reserves that risk running out this month unless a deal is reached with European partners.
Greece made the payment as scheduled, government spokesman Gabriel Sakellaridis said by telephone. The country was due to pay back about 584 million euros ($615 million). The nation's central bank also said Monday that its primary budget surplus narrowed to 503 million euros in the first two months of the year, less than a third of the amount in the year-earlier period.
As other repayments come due this week, the Greek government said March 14 that it had a plan to "enhance its liquidity" and won't have problems paying wages or pensions. Locked out of capital markets, Prime Minister Alexis Tsipras's government is eating into cash reserves while trying to get the euro region to release more funds from its 240 billion-euro bailout program. He'll join European leaders in Brussels on Thursday after tensions between Greece and Germany escalated last week.
"Our intention is to do everything possible to pay back every single euro," Greek Finance Minister Yanis Varoufakis said on German public broadcaster ARD late Sunday. "My message to the viewers this evening is very simple: help us to grow, so that we can pay the money back."
Public Revenue
Uncertainty has weighed on public revenue, causing the country's cash position to weaken. The budget slipped into an overall cash deficit of 684 million euros in the first two months of 2015 from a 139 million-euro surplus in the same period last year, the Bank of Greece said Monday.
The country's funding position has hurt investor sentiment. Greek bonds are the worst performing of all 34 sovereign indexes tracked by Bloomberg's World Bond Index this year, as the yield on 10-year notes rose 137 basis points last week to 10.78 percent. Yields on three-year notes rose 40 basis points to 19.49 percent in Athens on Monday.
More Repayments
Greek stocks fell 13 percent in the last month, the worst performance of all major equity indices tracked by Bloomberg. The benchmark Athens Stock Exchange was down 2.4 percent Monday.
Cash reserves that may run out by the end of the month will be further depleted on Friday when the government has to make another repayment of about 353 million euros to the IMF and refinance 1.6 billion euros of short-term notes. It plans to auction 1 billion euros of treasury bills on March 18.
Greek banks are the main buyers of short-term government notes, prompting concern in the European Central Bank that emergency funding facilities may be used to tide over the government.
"Where the government is unable to tap the market and where banks are unable to tap the market, in my view there are concerns about monetary financing if ELA is used to purchase treasury bills or to roll over treasury bills," Bundesbank President Jens Weidmann said in a Bloomberg Television interview in Frankfurt last week, using the acronym for the ECB's Emergency Liquidity Assistance program.
Euclid Tsakalotos, Greece's deputy foreign minister, said Monday that the ECB is partly to blame for Greece's cash crunch, and that its harsh stance toward the country poses risks to the euro.
Still, the ECB last week increased its ELA ceiling for Greek banks, according to two people familiar with the decision. It is reviewing the facility weekly with the next review on March 19. Varoufakis said on March 13 it would be helpful if the ECB could show flexibility with Greece.
"The European Central Bank is unlikely to be more flexible with Greece if the country doesn't reach an agreement with its creditors," Goldman Sachs strategist Francesco Garzarelli said in an interview in Cernobbio, Italy on March 13.
Before it's here, it's on the Bloomberg Terminal.
LEARN MORE