U.S. Halts Saudi Consular Services Amid Security Concerns
Jim Snyder and Nadeem Hamid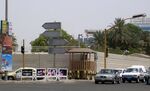 The U.S. Embassy in Riyadh canceled all consular services Sunday and Monday in the Saudi capital, Jeddah and Dhahran, amid heightened security concerns.
The announcement followed its warning Friday that U.S. oil workers operating in Saudi Arabia's Eastern Province may be targets for kidnapping or other attacks.
The embassy "has information stating that, as of early March, individuals associated with a terrorist organization could be targeting Western oil workers," including Americans, it said. The warning said the embassy had no further information on the "timing, target, location, or method of any planned attacks."
Foreign nationals have been targeted in a series of attacks in Saudi Arabia since the kingdom joined the U.S.-led coalition against Islamic State last year. A U.S. citizen working for an American defense contractor was killed in Riyadh in October, and a Danish citizen was shot and injured there the following month.
Saudi Arabia has tightened security and restricted access to the Diplomatic Quarters in Riyadh where the U.S. Embassy is located since the attack warning was issued.
In its suspension of consular services, the embassy said "all U.S. citizens are encouraged to be aware of their surroundings, and take extra precautions when traveling throughout the country." Consular sections' telephone lines will not be open during the two days, it said.
The State Department in Washington said it had no further comment.
The consular services' closure responds to specific intelligence information, rather than a general increase of risk, said Ghanem Nuseibeh, founder of Middle East risk adviser Cornerstone Global Associates in Dubai.
"However, this indicates the ongoing risk to Western interests in the region, in general," Nuseibeh said in an e-mail Sunday. "It is very likely that we will see more such threats in the coming months."
The U.S. embassy in Saudi Arabia previously warned of a possible plot to attack employees of Chevron Corp. in Saudi Arabia.
Before it's here, it's on the Bloomberg Terminal.
LEARN MORE