U.K. Liberal Democrat Cable Rules Out Post-Election SNP Deal
Robert Hutton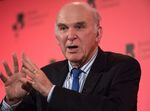 Business Secretary Vince Cable ruled out any post-election deal between his Liberal Democrats and the Scottish National Party, saying a deal with a party that wants to break up the U.K. would be "inconceivable."
Cable's comments, in an interview with the Guardian newspaper, make it likelier that Britain will have the novelty of a two-party minority government after the May 7 general election. With the SNP predicted to win between 40 and 50 seats of the 650 seats in the the House of Commons in an increasingly fragmented political landscape, a majority government will be hard to form without the inclusion of the Scottish party.
"I think it's inconceivable that we would be getting into tie-ups with the SNP," Cable was cited as telling the newspaper. "I would be very surprised if Labour did that, and certainly not the Tories."
The Liberal Democrats are meeting in Liverpool for their three-day spring conference, under the shadow of polls that suggest electoral meltdown in less than eight weeks. Their rating among voters has never recovered from its slump after the party's 2010 decision to go into coalition with David Cameron's Conservatives and follow a program of spending cuts, including the reversal of a pledge not to raise university tuition fees.
'I'll Be Back''
Chief Secretary to the Treasury Danny Alexander, whose own seat is under threat from the SNP, attacked the nationalists as "reckless" and "intent on slamming our recovery into reverse" in his conference speech Saturday. Still, he also tried to sound a positive note, saying: "I'll be back; we'll be back."
"Now you might be reeling in shock that I am talking about optimism," he told delegates. "But I am, and here's why. These last five hard years of consolidation, of having to take difficult decisions, of having to fight through the tough times, have put us in a place that is the envy of so many other countries."
Voters appear unconvinced. Predictions of the election outcome based on current polling suggest the Liberal Democrats will win less than 30 seats, down from 57 in 2010. Their support averages about 8 percent, a third of the 2010 level.
The only good news for the Liberal Democrats is that neither of the U.K.'s main two parties are forecast to be able to govern on their own. The Conservatives and Labour are both predicted to win less than 300 seats. The goal for a Commons majority is 326, meaning that the Liberal Democrats could lose half their seats and still be needed to form a government.
Before it's here, it's on the Bloomberg Terminal.
LEARN MORE