Miliband Revives Blair in 1997 With Election Pledge Card
Thomas Penny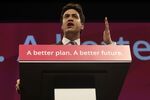 Opposition Labour Party leader Ed Miliband set out his five pledges for Britain's May 7 general election as he sought to regain momentum in the campaign.
With his party lagging Prime Minister David Cameron's Conservatives in six of the nine YouGov Plc polls during March, Miliband used a speech to party activists in Birmingham, central England, to portray Labour as the party offering hope and optimism. Polls show neither main party is set for a parliamentary majority and will need the support of smaller groupings to pass legislation.
"After five years of a Labour government, we will have built a country fit for the hopes and aspirations of the working people of Britain," Miliband told 1,500 party members as he presented the party's pledge card for the campaign. "The choice at this election is not simply between parties and leaders, but between different visions of our country."
Miliband pledged to cut the budget deficit every year, "balancing the books as soon as possible," boost living standards by freezing energy bills and provide free child care. The party also vowed to hire more nurses and doctors for the state-run National Health Service, control immigration and cut maximum university tuition fees to 6,000 pounds ($8,850) a year from 9,000 pounds.
The credit card-sized pledge card, printed in white type on a red background and signed by Miliband, echoes one produced by Labour during the campaign for Tony Blair's first election win in 1997.
'Very Bone'
"The Tories will carry on putting in place their vision of how our country succeeds by stripping public services to the very bone so they hit their target" of cutting spending "back to levels not seen since the 1930s, before there was an NHS and children left school at 14," Miliband said. "The Britain we believe in has decent public services as the rock on which we all stand."
Labour would increase taxes for the wealthy, raise the minimum wage and introduce regulations to stop employers undercutting British workers with cheaper foreign labor, Miliband told supporters, who had earlier joined a series of seminars with the party's senior spokesmen and women.
Discussion sessions under the five themes on the pledge card were held around an exhibition hall with members of Miliband's shadow cabinet talking about policies and answering questions from party members. The station where the health spokesman, Andy Burnham, was talking about the future of the National Health Service attracted the most activists.
Tax Review
Burnham said money raised from a planned tax on homes valued at more than 2 million pounds would pay for the improvement of care services for two years, after which it will need to be reviewed.
"We are going to be in a position in a couple of years time where we have to look again at whether we need to bring more money in," he told activists. "That's a debate we have to have at that time."
Simon Franks, the chairman of Redbus Group Ltd., which invests in fledgling companies, spoke before Miliband as "a business person and proud member of the Labour Party" and warned of the danger of Britain leaving the European Union if the Tories follow through on their pledge to hold a referendum on membership by the end of 2017.
"Leaving the EU would be a disaster for this country, it would damage the economy fundamentally, cost us jobs and trade and create havoc," he said to cheers in the hall. "If that alone doesn't make us the party of business, I don't know what does; my colleagues in the business community are terrified of a European exit."
Tory Response
The Conservatives responded to the release of advance extracts of Miliband's speech by asserting that a Labour government would borrow more, raise taxes for working people and fail to control immigration.
"Competence or chaos, that's the choice on May 7," Tory Chairman Grant Shapps said in an e-mailed statement. Miliband's proposals are in contrast to "the stability and strong leadership of David Cameron and the Conservatives working to a long-term economic plan, securing a better future for Britain," he said.
Before it's here, it's on the Bloomberg Terminal.
LEARN MORE