Italy's Padoan Confident on Monte Paschi, Carige Turnaround
Sonia Sirletti and Flavia Rotondi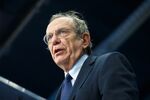 Italian Finance Minister Pier Carlo Padoan said he is confident that Banca Monte dei Paschi di Siena SpA and Banca Carige SpA, the two lenders in the country that failed the European Central Bank's health check last year, will turn around, as he ruled out additional state aid for Paschi.
"I am confident that both banks will come up," Padoan said in an interview with Bloomberg Television in Cernobbio, Italy on Saturday. "They are already working hard on a very effective and realistic but also strong recapitalization program."
Monte Paschi, Italy's third-biggest lender, emerged from the ECB review with a capital gap of 2.1 billion euros ($2.2 billion) while Carige must replenish about 810 million euros of capital, the ECB said on Oct. 26. Both banks approved share sales as part of their plans to fill the gap.
"Of course I would rule out any state aid," Padoan said when asked about the possibility of more government financial support for Monte Paschi. "Because of a technical mechanism" the government will own a stake of Monte Paschi capital, he said.
"The intention is to step out of the bank in a way which will be smooth, predictable and safe for all sides involved," he added.
Monte Paschi, which still has to repay 1.1 billion euros in state aid, will pay 243 million euros of interest -- due to the Treasury July 1 -- with new shares instead of cash, making the state an investor in the bank.
Bad Bank
The government, which is considering creating a bad bank to accelerate disposals of problematic assets, is working on "a solution which is as market-friendly as possible and at the same time fully compliant with European competition rules and state aid rules," Padoan said.
Central bank data issued March 10 showed bad loans reached a high of 185.5 billion euros in January. The rising stockpile is hindering Italian banks' ability to expand lending and holding back the country's recovery from recession.
Italy is working both domestically and with the European commission to identify practical solutions, Padoan said.
He said options under review "require more or less state action" and a final proposal is expected "very soon."
Before it's here, it's on the Bloomberg Terminal.
LEARN MORE