Egypt Secures Billions in Aid, Deals as Gulf Arabs Lead Way
Salma El Wardany, Tarek El-Tablawy and Ahmed Feteha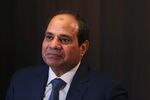 Egypt secured billions of dollars in investment commitments at a conference billed by the government as a milestone in efforts to revive the struggling economy. Stocks advanced.
The government and investors signed initial deals on Saturday in industries ranging from energy to logistics and construction. Gulf Arab investors played a key role one day after Saudi Arabia, the United Arab Emirates, Kuwait and Oman pledged more than $12 billion, half of them as deposits in the central bank. U.A.E. companies, including Aabar Investments PJSC, are taking the lead on projects to build two cities, one of which, to the east of Cairo, is to become Egypt's new administrative capital.
The funds maintain the status of Gulf Cooperation Council nations as Egypt's main financial backers after the ouster of President Mohamed Mursi in 2013, supporting a government that shares their hostility to political Islam. The bulk of announcements from the Gulf and beyond came from investors with a presence in Egypt such as U.K.-based BG Group Plc and Germany's Siemens AG, which signed a deal valued at about 10 billion euros ($10.5 billion) to increase the country's power capacity by as much as one-third by 2020.
"We've seen overwhelming support over the past two days, funds coming through foreign direct investment but also through the private sector," Aly Abou-Sabaa, vice president of the African Development Bank, which he said plans to increase lending to Egypt this year by $500 million.
The event comes at a critical time for the most populous Arab country, with security forces struggling to stop militant attacks in northern Sinai. Bomb attacks in Cairo and other provinces have become a daily occurrence in the past two weeks.
Distress Signals
The $300 billion economy has been growing at the slowest pace in two decades, and signs of recovery in the second half of 2014 have given way to renewed signs of stress from recent data. The Purchasing Managers' Index, a measure of health for manufacturing, hit a 17-month low in February. HSBC, which sponsors the report, said it presented a "bleak picture."
In the run-up to the conference, authorities have taken steps to attract investors, including reducing energy subsidies, lowering income tax and devaluing the pound. The government also set up new mechanisms to resolve commercial disputes, after a series of lawsuits challenging contracts.
"There is a diversity of investors reflecting the diversity of opportunities available in the Egyptian economy," Hisham Ezz Al Arab, chairman of Commercial International Bank, Egypt's biggest publicly traded lender, said. "What we saw in the conference exceeded our expectations."
New Cities
Egypt's benchmark EGX 30 Index climbed 1.5 percent, the most since March 2, to 9,786.86 at 10:39 a.m. in Cairo.
Palm Hills Developments SAE surged 3.9 percent after the real-estate developer, along with Abu Dhabi-based Aabar signed a memorandum of understanding with the government to build a city near Cairo. The 150 billion pound ($20 billion) project will be carried out over as long as 15 years, said Mohamed Taymour, chairman of Pharos Holding, which advised the government on the deal.
Capital City Partners Ltd. signed another agreement with the government to develop a new capital, said Mohamed Alabbar, the company's founder and chairman of Dubai-based Emaar Properties PJSC. The city will include about 350,000 housing units and 10,000 hotel rooms, he said. The government has a 24 percent stake in the project, Housing Minister Mostafa Madbouly said at the conference.
Beyti, a joint venture between Saudi Arabia's Almarai Co. and PepsiCo Inc., is weighing an acquisition of confectioner Rashidi El-Mizan and packaged milk producer Dina Farms, two units of Egypt's Qalaa Holdings, Chief Executive Officer Mohamed Badran said in an interview. Qalaa's shares rose more than 2 percent.
Energy Investments
Investment pledges from multinational companies focused on the energy and power-generation industries.
Eni SpA, the Italian oil company, signed an initial deal valued at $4 billion with the government to develop Egypt's oil and gas resources and increase the "security of return on Eni's investments." BG also plans to invest $4 billion in the Arab country over the next two years, Chief Operating Officer Sami Iskander said.
El-Sisi, in his address to the conference, billed support for Egypt as backing for a nation that has been "the first line of defense" in the fight against terrorism. Local and international human rights groups, including Human Rights Watch, have criticized him for the crackdown on Islamists and political dissent.
U.S. Secretary of State John Kerry, who was also in Sharm El-Sheikh, said moves toward democracy would help the economy recover.
"The more political openness and freedoms there are, the more democratic aspirations are fulfilled, the more business will thrive," he said.
Before it's here, it's on the Bloomberg Terminal.
LEARN MORE