Wal-Mart Shakes Up Grocery Management in Bid to Improve Food
Renee Dudley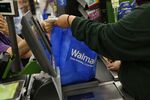 Wal-Mart Stores Inc., the world's largest retailer, is reshuffling its food executives as the company tries to improve the quality of groceries and entice more customers into stores.
Jack Sinclair, who has been executive vice president of the U.S. grocery division since 2007, will retire on March 20, according to a note that the Bentonville, Arkansas-based company sent to U.S. employees. Senior Vice President Tony Airoso, who runs the dairy and fresh-food strategy, will become a California-based senior vice president of global food sourcing.
The changes follow a December announcement that the company was creating new senior leadership posts to focus on produce and meat. The company pledged in October to make fresh groceries a big focus for Wal-Mart, stepping up competition with supermarket chains. The retailer said it's working to boost both the quality and consistency of its produce.
"Food is a big part of what Wal-Mart has become," said Brian Yarbrough, an analyst at Edward Jones in St. Louis. "It is a big traffic driver."
In other moves announced Friday, Carmen Bauza, a senior vice president of health and wellness, will oversee areas such as household chemicals, paper goods and baby products. And Debra Layton, now senior vice president of layouts and space productivity, will lead the company's Better Buying initiative, which focuses on improving purchasing procedures.
Food Sourcing
The company made additional announcements in a separate memo to Wal-Mart U.S. merchandising employees. Chuck Tilmon, now a vice president of global food sourcing, will become vice president of fresh charter initiatives, which focuses on improved performance in fresh merchandise. Tyler Lehr, vice president of frozen foods, will oversee dairy products. Megan Crozier, currently a senior category director in frozen foods, will replace Lehr.
Randy Hargrove, a Wal-Mart spokesman, didn't immediately respond to a request for comment on the shake-up.
The company's grocery business has struggled with quality concerns, a reduction in food-stamp benefits and rising supply costs. Wal-Mart's total growth also has suffered. It said last month that sales would rise 1 percent to 2 percent this year, down from a previous forecast of as much as 4 percent. A plan to boost wages to at least $10 an hour by next February is taking a toll on profit as well.
Getting food right could help, Yarbrough said.
"It's lower margin, but you hope to sell more discretionary items while people are in there," he said. "That's key for the longer term."
Before it's here, it's on the Bloomberg Terminal.
LEARN MORE