Three Dead After Eating Tainted Blue Bell Ice Cream
Anna Edney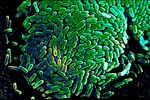 Three people have died after eating bacteria-contaminated ice cream products made by Texas's Blue Bell Creameries and served at a Kansas hospital.
Ice cream from the closely held company infected five with the Listeria monocytogenes bacteria from January 2014 to January 2015, the Food and Drug Administration said in a statement. The FDA and the Centers for Disease Control and Prevention are investigating the outbreak.
The FDA didn't identify the hospital in Kansas where the people got the ice cream.
The company has removed affected ice cream bars from the market by picking them up from retailers and hospitals where they're served, the FDA said. Blue Bell is available in 20 states, according to the Brenham, Texas-based company's website.
The South Carolina Department of Health and Environmental Control first detected the contamination in single serving Chocolate Chip Country Cookie Sandwich and the Great Divide Bar ice cream products during routine testing. The Texas Department of State Health Services then collected samples from Blue Bell's Brenham facility and also found Listeria in a third single-serving ice cream product, Scoops.
Listeriosis, the infection caused by eating food contaminated with Listeria, can cause fever, muscle aches and diarrhea. Older people and pregnant women are most vulnerable, according to the CDC.
Before it's here, it's on the Bloomberg Terminal.
LEARN MORE