Ted Cruz Loves NASA, But There's a Catch
At a hearing Thursday, the Texas Senator said the agency should focus on space (and pay less attention to earth).
By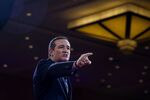 Senator Ted Cruz has not yet, as his critics fully expected, argued to slash funding for NASA now that he chairs the Senate subcommittee that oversees it. 
Instead, at a budget hearing on Thursday, the Tea Party favorite seemed to take the opposite approach, describing today's space agency as insufficiently ambitious and disappointingly dull. "It's time for man once again to leave the safety of the harbor and to further explore the deep uncharted waters of deep space,'' he said.
Yet his central argument at the hearing on the agency's 2016 budget—that NASA should focus more on the sexy, sending-humans-to-Mars stuff and less on the earthbound business of studying our own planet—really only relocated a frontal attack to the side entrance. He'd previously advocated cuts, and his climate-change skepticism and role in shutting down the government in 2013 didn't win him a lot of fans in the research community.
But these days, he worries about the space agency's future: "I'm concerned that NASA in the current environment has lost its focus,'' Cruz told NASA administrator Charles Bolden, who was seated alone at a table in front of the subcommittee members in a hearing room in the Russell Office Building.
First, Cruz invited Bolden to sketch out his agency's core mission, and rested his chin on his hands as he awaited a reply.

Under the pressure of the chairman's spider-to-the-fly graciousness, though, Bolden's response never achieved liftoff. It's making our own planet more hospitable, he tried to say. It's "to help us make this place a better place; that's the nuts of it." There are "multiple cores" to the core mission, he went on to say, and "the big 'A' in NASA is aeronautics."
That's when Cruz took mercy and cut him off: "Almost everyone would agree that the core mission of NASA is to explore space,'' he said, as that's what makes little Americans dream of growing up to become an Astronaut Ann or Andy.
Then an aide produced a chart that Cruz said showed that the proposed NASA budget outlay of $1.9 billion for Earth sciences in 2016 amounts to a 41 percent increase for those programs since 2009, when Obama became president. It also showed, he said, that the $4 billion in the new Obama budget for space exploration adds up to a 7.6 percent decrease since '09.
"In my judgment, this doesn't allocate a fair apportionment" of resources, Cruz said. "Do you share that assessment?'' he asked Bolden.
Well, not necessarily: "I'm very interested in your chart,'' the administrator said, but couldn't say at a glance that it was correct. "That's a lot of chartsmanship."
And the decrease in funding for exploration, in any case, "is a little bit of what we were trying to do"—in attempting to lower the cost of sending humans into space. (And wasn't doing more with less a good thing?)
"I'm confident it's not your testimony that NASA has all it needs,'' Cruz put in with a smile, and Bolden hurried to agree.
So why ever would the president, Cruz wondered, want to cut funding for space exploration? Could that mean that the administration lacks confidence in the man-to-Mars program the president committed to five years ago?
Since it's learning more about Earth that makes safe space exploration possible, Bolden answered, we can't really unlink Fun with Rockets from NASA's Earth sciences programs, which track radiation from the sun, for example, and help determine what time of year to take off for what would be an 8-month mission for the red planet. And "we can't go anywhere if the Kennedy Space Center is under water."

When it was his turn to ask questions of Bolden, Senator Bill Nelson (D-Fla.) suggested that the proposed budget must be looked at as a whole: Yes, there's a roughly $400 million decrease for certain aspects of space exploration, but also $93 million more for research and development, $84 million more for cross-agency support and $129 million more for space technology—all of which will actually support space exploration. "Earth science directly relates to everything we're doing in exploration," Nelson said.
Democrats also pointed out that the proposed NASA budget for Earth sciences is less than it was a generation ago under President Clinton—before being cut substantially under the second President Bush.
But neither Cruz nor his fellow Republican on the subcommittee, Colorado Senator Cory Gardner, responded to those arguments. Without ever changing his pleasant tone, Bolden seemed to grow frustrated, at one point blurting, "It's absolutely critical the committee trust NASA" and the "pretty smart people" who work there. He sees himself, he said, as the committee's technical adviser on space science. And "if I'm not doing that well, you ought to fire me, to be quite honest."
Bolden was so rattled, in fact, that he mistakenly said NASA had put $498 billion into human space flight programs during his years as administrator, compared to only $11 billion spent on Earth sciences in that time. When Cruz questioned how that could be, Bolden acknowledged that he'd meant $49 billion, not $498 billion. 
Cruz, who may be running for president, didn't press the advantage: "Sadly, Congress for some time has failed to distinguish between millions and billions, so you're in good company."
"I'm a pilot—a Marine pilot,'' Bolden said in explaining his math mixup. And one who'd flown straight into the kind of political turbulence no NASA satellite could have helped him avoid. 
But the administrator had also made the tactical error of noting in an aside that since Cruz's home state of Texas has the fewest resources of any state in terms of measuring soil moisture, NASA's assistance to that state's resource management efforts was a nice fringe benefit for Texans, and helped farmers there maximize crop yield.
"Are we focusing on the heavens in NASA?'' Gardner asked. "Or are we focusing on dirt in Texas?"
And the sound bite of the day went to the subcommittee's new chairman: "I love our Texas soil,'' said Cruz, who holds degrees from Princeton and Harvard, "but that ain't what makes NASA special."