Sweden Wants to Question WikiLeaks Founder Assange in London
Niklas Magnusson and Amanda Billner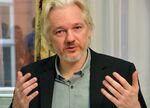 Sweden is seeking permission to question Julian Assange in London to keep alive a case against the WikiLeaks founder before a statute of limitations takes effect this year.
Sweden's Director of Public Prosecutions Marianne Ny has put in a request to Assange's legal representatives to ask if he'll consent to being interviewed in London and to having a DNA sample taken, according to a statement on Friday.
The decision behind the timing "is chiefly that a number of the crimes Julian Assange is suspected of will be subject to a statute of limitation in August 2015," Ny said. "If Assange gives his consent, the prosecutor will promptly submit a request for legal assistance to the British authorities to further continue the investigation."
Assange sought refuge with Ecuador in June 2012, after exhausting options in U.K. courts to avoid extradition to face questioning on allegations of rape and sexual molestation during a 2010 visit to Sweden. The Australian national, who says he's innocent and hasn't been charged with a crime, has refused to return to Sweden, citing risks he will be extradited to the U.S. over the release of secret documents by WikiLeaks.
Per E. Samuelson, a lawyer for Assange in Stockholm, said he has "no problem" with the request and that legal representatives will travel to London "as soon as possible" to consult with Assange. The request is "a victory" for the Australian, who "is glad something is finally happening," Samuelson said by telephone. Assange "hopes to be cleared."
Bid Lost
The request comes after the WikiLeaks founder in November lost a second bid to overturn the Swedish arrest warrant. The Court of Appeal in Stockholm said on Nov. 20 that "there is a great risk" that Assange will evade legal proceedings or punishment. However, the court also criticized the prosecutors, saying their failure to examine alternative avenues to move the case forward wasn't in line with their obligations under Swedish law.
This week, Sweden's Supreme Court told prosecutors to reply to Assange's latest appeal with a particular focus on the legal principles of proportionality.
Ny reiterated that she believes an interview with Assange in London at the Ecuadorian embassy will lower the quality of the evidence and that he'd still need to be present in Sweden in the event of a future trial, but that time was running out.
"I have viewed it therefore necessary to accept such deficiencies to the investigation and likewise take the risk that the interview does not move the case forward, particularly as there are no other measures on offer," she said.
Assange is accused of failing to use a condom with one woman and having sex with another while she was asleep. The women, both supporters of WikiLeaks, let him stay at their homes during a speaking tour in 2010.
Before it's here, it's on the Bloomberg Terminal.
LEARN MORE