Restaurants
April Bloomfield Is Looking for a Farm to Open
The chef at the Spotted Pig opens up about her plans, and the one thing she won't do
By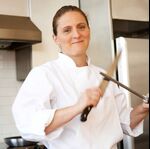 When the notoriously shy April Bloomfield was "discovered" in 2003 at London's River Cafe and brought to New York to run New York's hippest and most star studded gastropub, The Spotted Pig, she was 29 and had never been to America. In her native Birmingham, she'd wanted to be a policewoman. With her business partner Ken Friedman, she's since opened four more restaurants, got the highest score ever on the Food Network's Iron Chef series and starred in PBS's The Mind of a Chef where she was positioned as one of the world's most important chefs. As she gets ready to release her second book, A Girl and Her Greens, Bloomberg's Peter Elliot caught up with her in New York.
When you first arrived in the U.S., it was like you were the bride in an arranged marriage. Is that true?
More or less! Jamie [Oliver] was a friend of Ken [Friedman], and Ken of Mario [Batali], blah blah. It was fast. It was scary. And very exciting. They knew what they wanted for the Spotted Pig. But I was also ready for a change. I'd gone as far as I could. I could have stayed another 10 years but I wanted to challenge myself professionally and personally.

What have you learned since then?
I've learned to be a better manager, a better leader. I've really had to learn to adapt and change and mold. You have to learn to change. Or at least I did. I still can't answer every text or e-mail—I learned to get a lovely assistant. Most of all I've learned about balance. It's not just about the e-mails, or the assistant; it's about learning how to grow so your people have something to hold onto and still keep a balance.
Can you give me an example?
Ken would want to open 10 more restaurants. I want less. So we sit down and battle it out.
Why not? Is it too much personally? Or too much professionally?
Both. Too much of everything. If you don't have a good home life, if you don't get enough sleep—I know cooks who party like animals and then cook behind the line—whatever it is, if you do too much of it, you'll implode. Too many restaurants to me is like that. I look, but I'm cautious.
What is your partnership with Ken like? What makes it work?
We have a good one. We listen to each other. If we're happy, we say. If we're unhappy, we say. We try not to communicate too much by e-mail because things can really go awry. Lots can get misconstrued by e-mail or text. So we learned to meet a lot, and in person.
Interview over! That might be the best piece of advice for partners, "Don't email, says April Bloomfield!"
Really? Can I go then?
Does being interviewed make you that uncomfortable?
Yes. I mean no. No. I've always been shy. But being in public comes with the job. It's the balance thing again, right? I've learned to deal with my shyness better. I hope. I joke with Ken that if he hadn't pulled me from behind the line, we'd never have opened John Dory!
So how did you do Iron Chef and Mind of a Chef? Lights, cameras...
It's a skill like any other. I forced myself to learn it. It's not like I had to act. I learned how to look into a camera and talk to people, develop that different side. Sometimes it makes you uncomfortable, but that's good because it means you're stretching your boundaries and you're learning from that process.
You've become synonymous with gastropubs. Are you tired of it yet?
There was a time in England when everyone had that style and I became a part of it. Now it means more. It means you can go to a place that's casual and get chef-driven food. What irritates me is that I'm interested in all sorts of foods and techniques. I mean if I wasn't, it would be kind of weird, wouldn't it? On Sunday, I made ramen from scratch just because I wanted to master it. I really don't want to be put in a box. I love warm spices, things that are exact, maybe one day Eastern European or Middle Eastern. And of course, that's why we did  A Girl and Her Greens. [Which follows her first book, A Girl and Her Pig, released in 2012.]
How do you feel being one of the archetypal chefs of your generation?
Uncomfortable. First off, I'm a cook, not a chef. What a lot of people don't see is I've been cooking for 24 years. I built foundations. I sacrificed. I've cut myself and burned myself I've made mistakes. I've learned from them and grown. It's the job of a modern cook but not everyone gets the opportunity. I like the chance to do these things but at the end of the day it's about my restaurants. That's my number one priority. Not the TV show or whatever it is. I'm old fashioned that way.
So any special dream in your crystal ball?
Well I don't know that I want to stop. I'm very happy and I want to have my own farm.Chickens, sheep and pigs. I'd love to go back to the roots and start growing. We haven't found a spot yet, but I've been looking. It comes back to that I like to learn. And when you stop learning, you stop growing. I still have a lot to learn.
Before it's here, it's on the Bloomberg Terminal.
LEARN MORE