Small Is Beautiful in U.S. Stock-Index Futures: Chart of the Day
David Wilson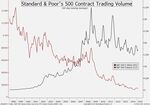 The demise of trading in larger futures on the Dow Jones Industrial Average and the Nasdaq-100 Index is in keeping with a shift into smaller U.S. stock-index contracts that has been building for years.
The CHART OF THE DAY shows the transition by comparing the trading volume on Standard & Poor's 500 Index futures and their smaller version, known as E-mini contracts, on a monthly basis. To minimize the effect of day-to-day swings, the chart displays 60-day moving averages.
Daily trading in the full-sized S&P 500 futures averaged about 13,900 contracts for the 60 days ended Feb. 27, according to data compiled by Bloomberg. The figure was 89 percent lower than at the end of 1997, the year that E-minis were introduced on the Chicago Mercantile Exchange.
E-mini trading soared 100-fold during the period to an average of 1.72 million. The highest end-of-month reading was
3.5 million in November 2008, when a global financial crisis was unfolding. The futures have one-fifth of the underlying value of S&P 500 contracts.
Similar trading swings in futures on the Dow average and the Nasdaq-100 preceded a decision by CME Group Inc., owner of the Mercantile Exchange and other derivatives markets, to phase out larger contracts.
Electronic trading of the futures concluded two days ago, and the contracts will no longer be available once the Chicago-based company closes most of its trading pits in June. S&P 500 futures were unaffected by the move.
E-minis on the Dow industrials have half the underlying value of the biggest contracts, compared with one-fifth for their Nasdaq-100 counterparts.
Before it's here, it's on the Bloomberg Terminal.
LEARN MORE