Sierra Leone Postpones School Reopening as Preparation Lags
Silas Gbandia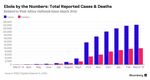 Sierra Leone delayed the opening of schools because some of the facilities have not been disinfected after being used as treatment and holding centers for Ebola patients.
Junior high school students will take exams on March 23, a week later than previously announced, Education Minister Minkailu Bah said Friday in Parliament. Bah didn't say whether the start for students in primary schools, slated to return on March 20, would also be delayed. The academic year in Sierra Leone runs from September to July.
"We realized that the schools had not been disinfected," he said. "Because of this situation the students cannot go to the schools."
Sierra Leone has struggled to reduce the number of new Ebola cases being reported. Across the border, Liberia has gone two weeks without registering a new case, moving it closer to getting the World Health Organization to declare it free of Ebola.
Before it's here, it's on the Bloomberg Terminal.
LEARN MORE