Shale Producer Whiting Draws Exxon, Others as Suitors
Matthew Monks and Bradley Olson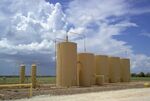 Whiting Petroleum Corp., the North Dakota oil explorer, has attracted interest from Exxon Mobil Corp. and Continental Resources Inc. as it explores a sale of the entire company, people with knowledge of the situation said.
Hess Corp. and Statoil ASA are also looking at Denver-based Whiting, said the people, who asked not to be identified discussing private information. Whiting has set up a data room for potential buyers to evaluate the company's financial information and asked them to submit bids next week, the people said. The discussions are ongoing and there's no guarantee a deal will be reached.
A potential deal for Whiting, the largest producer in North Dakota's Bakken shale formation, may be the first in an anticipated pickup of merger activity for U.S. energy producers as they grapple with heavy debt and an oil selloff.
Continental, Exxon, Hess and Statoil are already among the 10 largest holders of acreage in the Bakken, a giant slab of oil-soaked rock that lies beneath Montana, North Dakota and parts of Canada, according to data compiled by Bloomberg.
Consolidation is likely to pick up in the oil patch this year as larger U.S. and international buyers seek to "snatch up" valuable shale producers, according to a statement from Paulson & Co., which owns 8.1 percent of Whiting.
Spokesmen for Whiting, Exxon, Continental, Hess and Statoil declined to comment. The Wall Street Journal previously reported that Whiting is seeking a buyer.
Whiting climbed 4.3 percent to $40 at the close in New York, giving the company a market value of about $6.7 billion.
Bigger Footprint
Whiting is probably exploring a sale along with other strategic alternatives, including selling assets, raising debt and selling shares in order to address "investor liquidity concerns," Phillip Jungwirth, an analyst with Bank of Montreal, wrote in a research note last week.
Bloomberg News reported in February that Whiting was exploring selling up to $700 million of oil and natural gas processing assets.
"While some reports implied Whiting was a distressed seller, we don't view this as the case," Jungwirth wrote. "We'd expect interest in Whiting to come from larger Bakken peers that are looking to expand their footprint."
Buying a shale producer such as Whiting is cheaper than it has been at any time in recent years as companies used new technology to unlock a boom in North American supplies, flooding world markets and depressing prices. The value of reserves held by about 75 drillers based on their reserves fell by a median of 25 percent by the end of 2014 compared to the previous year, according to data compiled by Bloomberg.
West Texas Intermediate for April delivery slid $2.21, or 4.7 percent, to $44.84 a barrel on the New York Mercantile Exchange, the lowest settlement since Jan. 29. WTI dropped 9.6 percent this week, the steepest five-day loss since Dec. 12.
Before it's here, it's on the Bloomberg Terminal.
LEARN MORE