Sam Simon, Elizabeth Bramwell, Stephen Murray: Obits This Week
Steven Gittelson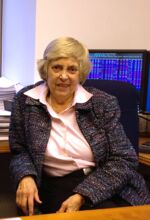 This week's notable deaths included a writer who helped create the hit animated television show "The Simpsons"; a woman who became a star mutual-fund manager at Gabelli & Co. before starting her own firm; and the head of a New York-based private equity firm who resigned last month for health reasons. Below are summaries of these and other obituaries.
Sam Simon, 59. Original chief writer for "The Simpsons," the longest-running scripted show in television history. He worked on the show during its first four years, then left in 1992 after conceptual differences with its creator, Matt Groening. Retaining the title of executive producer, he made tens of millions of dollars annually as the show endured, and became a philanthropist. Died March 8 at his home in Los Angeles. He was diagnosed in late 2012 with colorectal cancer.
Elizabeth Bramwell, 74. Founding manager of the Gabelli Growth Fund, who in 1994 quit to form her own New York-based asset-management company. In 2005, Sentinel Asset Management Inc., a Montpelier, Vermont-based unit of National Life Holding Co., acquired her firm, Bramwell Capital Management, for an undisclosed amount. In her 45-year Wall Street career, she eschewed feminism, saying success came to those who outperformed their benchmarks. Died March 7 in New York of a blood clot after collapsing at her weekly badminton game.
Stephen Murray, 52. Chief executive officer of CCMP Capital Advisors, the leveraged-buyout firm spun off in 2006 by New York-based JPMorgan Chase & Co. Murray joined a predecessor of the business in 1989 when it was part of Manufacturers Hanover Trust. Following bank mergers, it became a unit of JPMorgan in 2000. He was named to lead the division in 2005. Its investments included Cabela's Inc., Quiznos Sub and Warner Chilcott Plc. Died March 12.
Michael Graves, 80. U.S. architect who designed more than 350 buildings around the world as well as housewares sold in Target Corp. department stores. He helped redefine modernism in the 1970s, partly through his use of color. Died March 12 at his home in Princeton, New Jersey.
Walter J. Salmon, 84. Harvard Business School professor for four decades, focusing on retailing and consumer marketing. He taught in Harvard's Advanced Management Program for senior executives and was chairman of its Top Management Seminar for Retailers and Suppliers. He mentored many students during his career, helping them land retail-industry positions after graduation. Died March 8 at Beth Israel Deaconess Medical Center in Boston. The cause was complications of a stroke.
Heath Bogin, 37. Senior analyst at Citadel LLC's Surveyor Capital unit in New York, who specialized in the technology industry. He joined Surveyor Capital's technology, media and telecommunications team in 2011, following a decade on Wall Street, mostly at AllianceBernstein Holding LP. Citadel, a Chicago-based hedge fund, had $25 billion in investment capital as of March 1. Died March 8 of lymphoma at New York-Presbyterian Hospital/Weill Cornell Medical Center.
Before it's here, it's on the Bloomberg Terminal.
LEARN MORE