Roubini Greek Doom Scenario's So Bad It May Keep the Euro Intact
Lisa Abramowicz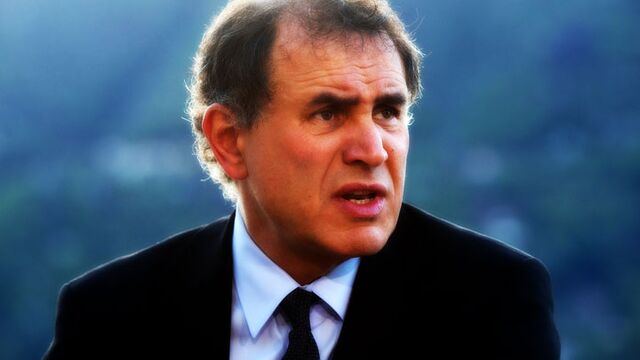 Nouriel Roubini isn't called "Dr. Doom" for nothing. He tends to be a glass half-empty kind of guy who worries a lot about looming crises.
But in an interesting twist, when it comes to Greece, the economic professor's not that concerned. Here's why: the doomsday scenario he envisions if the country exited the euro zone is so bleak for the whole region that policy makers both in Athens and across Europe will never let it happen. It's true other analysts are speculating that officials in Germany and other EU countries are more willing now to entertain the idea of a Greek exit, but that's not how Roubini sees it.
Borrowing costs would soar for nations such as Italy and Spain and Europeans would race to withdraw cash from their bank accounts, according to Roubini, a professor at New York University's Stern School of Business. Even Germany -- Greece's main nemesis as it negotiates a new financial aid package from European leaders -- recognizes this risk, he said in a Bloomberg Television interview Friday.
"It doesn't make sense to have a Greek exit," he said. "There would be massive contagion."
While bond buyers are selling Greek bonds, they seem complacent about the risk to the rest of the euro region and have been pouring money into debt of Italy, Spain and Portugal, sending yields on those nations' debt to record lows. Spanish and Italian 10-year bonds are yielding just 1.2 percent.
Greek Bonds
Greek debt, meanwhile, has been falling. Yields on Greece's 10-year bonds rose to 10.7 percent Friday from 8.6 percent on Feb. 24. Rates on its 3-year notes have climbed to 19 percent from 12.4 percent.
So, maybe investors are right to dismiss concerns that a Greek exit would infect all of Europe, even as the nation with one-quarter of its working-age population unemployed faces very real deadlines for making debt payments.
While Greece made a 350 million euro loan repayment to the International Monetary Fund Friday, it faces another financial hurdle on March 20, when the government has to pay the International Monetary Fund another 346 million euros and refinance 1.6 billion euros of treasury bills.
Tensions have risen between Greece and Germany since the election of Prime Minister Alexis Tsipras on Jan. 25. Tsipras won on a platform of ending the austerity his Syriza party blames Chancellor Angela Merkel for pushing.
Roubini says that, even though Germany has been vocal about its displeasure with Greece's antics, everyone understands the potential consequences of failing to keep the region intact -- which is why it won't unravel.
Dr. Doom almost sounds a little optimistic.
Before it's here, it's on the Bloomberg Terminal.
LEARN MORE