Obama Offers Personal Condolences to Family of Kayla Mueller
Margaret Talev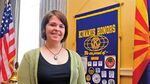 President Barack Obama met with the family of American aid worker Kayla Mueller who died while being held hostage by the Islamic State extremist group.
In an unannounced stop while he was in Phoenix for another event, Obama on Friday offered condolences to her parents, Carl and Marsha Meuller, and her brother, Eric, according to a White House spokesman.
"He appreciated the chance to hear from the Muellers more about Kayla's compassion and dedication to assisting those in need around the world," Eric Schultz, deputy press secretary, said in an e-mailed statement.
The U.S. confirmed Mueller's death on Feb. 10. Islamic state said she was killed by an airstrike carried out by the Jordanian air force, though there's been no evidence made public showing how she died.
Mueller, 26, had been doing aid work in Syria when she was captured. She was held hostage for 18 months.