Large Banks Getting Back Into Manhattan's Office Market
David M. Levitt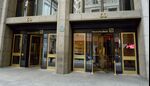 Big banks, the once-dominant industry for Manhattan landlords, are getting back in the office market and searching for new space after years of weathering the fallout of the financial crisis.
Deutsche Bank AG is in the market for about 1 million square feet (93,000 square meters) of space, enough to anchor a new building. HSBC Holdings Plc is seeking as much as 700,000 square feet for its primary New York offices. Wells Fargo & Co. wants about 300,000 square feet to house some of its most productive investment bankers.
Manhattan landlords are again courting financial firms after the industry retreated to the sidelines in recent years, with technology and media companies driving leasing. Banks are looking for space that will allow them to shrink their footprint to control costs, consolidate employees from far-flung locations or update outdated quarters, said Michael Cohen, tri-state regional president for brokerage Colliers International.
"Coming out of the crisis, what we saw were banks giving up dollops of office space," said Cohen, citing UBS Group AG's cutbacks on Park Avenue and JPMorgan Chase & Co.'s sale of Chase Manhattan Plaza downtown. "Today we're seeing that stabilizing. We're seeing them cope with a new regulatory environment and finding ways to stay profitable."
Banks are "primed" to come back into the market, in part because of consolidations or lease expirations coming up, according to Marc Holliday, chief executive officer of New York-based SL Green Realty Corp., the city's biggest office landlord.
Brokers now "generally have a shared view, which is that the banks are hopefully past understanding the regulations, their new world environment," Holliday said on the company's Jan. 29 earnings conference call. "We think that's going to be a big contributor in the period to come."
Deutsche Bank
Deutsche Bank is considering whether to depart, stay or scale back at its U.S. headquarters at 60 Wall St., a 1.66 million-square-foot tower it fully occupies and once owned, said two people with knowledge of the matter. The biggest German bank told landlords last year it is seeking at least 1 million square feet, said the people, who asked not to be identified because the discussions are private.
The Frankfurt-based company's lease at 60 Wall, owned by Paramount Group Inc., runs to 2022, according to a person with knowledge of the agreement. That gives the bank time to consider new skyscrapers planned for the nearby World Trade Center or the Hudson Yards area west of Midtown, and could be completed around that time.
If Deutsche Bank chooses to stay, its offices, which were installed when it bought the building in 2001, would need extensive remodeling, one person who has seen the space said. The bank sold the tower to Paramount in 2007 for $1.18 billion, and agreed to remain there for another 15 years.
Outdated Space
"We will not speculate on the location of our regional headquarters beyond 2022," Renee Calabro, a Deutsche Bank spokeswoman, said in an e-mail. "However, as one of the largest foreign banks in the U.S., we remain committed to New York City."
Jason Chudoba, a spokesman for Paramount, declined to comment.
Many of the banks examining their real estate needs have been in their offices long enough that they've become outdated and inefficient, according to Mary Ann Tighe, CEO of the tri-state region for brokerage CBRE Group Inc.
"There have been some fundamental changes in the way every industry used their real estate, and financial services is no exception," Tighe said. "If your space was built out in the pre-density era, or the era of everyone having an assigned seat, or when technology was not so ubiquitous, then you're asking yourself if this is really the way we should be working."
BNP Lease
Other banks with leases ending early in the next decade include BNP Paribas SA, France's largest lender, which has its main New York office at the Equitable Building at 787 Seventh Ave. in Midtown. The Paris-based bank last year issued a request to landlords for new offices, two people with knowledge of the matter said.
A BNP Paribas spokeswoman, Cesaltine Gregorio, said the bank was one of the tower's original tenants when the building opened in 1986. She declined to comment on the company's plans, as did Discretion Winter, a spokeswoman for the building's owner, AXA SA.
HSBC, Europe's biggest bank, faces a 2021 expiration of its lease at 452 Fifth Ave., an office tower south of the landmark New York Public Library building in Midtown, where it has about 313,000 square feet, according to data from research firm CoStar Group Inc. The London-based bank also has about 312,000 square feet of offices spread across four other Manhattan properties.
HSBC Review
HSBC issued a request for proposals for 500,000 to 700,000 square feet, according to a person with knowledge of the effort. A spokeswoman for IDB Development Corp., the building's Tel Aviv-based co-owner, declined to comment.
"We regularly review our real estate networks to ensure it remains appropriate for the future needs of the business," Rob Sherman, a New York-based HSBC spokesman, said in an e-mailed response to questions.
Financial firms, including insurers, last year signed 25 percent of Manhattan leases for 5,000 square feet or more, according to Colliers. That's up from 20 percent in 2009, the year after Lehman Brothers Holdings Inc. went bankrupt and Bear Stearns Cos. and Merrill Lynch & Co. reached deals to be sold.
As banks were pulling back, technology, media and advertising companies were became a growing force in the market. They accounted for almost 23 percent of agreements for at least 5,000 square feet, compared with only 12 percent in 2007, Colliers data show.
Steve Durels, executive vice president for leasing at SL Green, said smaller deals by hedge funds and private-equity firms kept up while demand from large banks slackened. Now, "it seems like financial services' demand for space has broadened over the past 12 months or so," he said.
Long Effort
A decision to move large parts of an investment bank is a process that can take many years. It often starts with an internal study, determining the needs of individual units and the commuting patterns of their workers. Then, companies will identify suitable buildings and sites, and send out requests for proposals. Finally comes the selection of top choices, which sometimes may involve not just the bank, its landlord and brokers for each, but also city and state officials intent on keeping the bank as part of the local economy.
Some companies may decide to stay put, even though it's more expensive to retrofit existing space than to relocate, especially to a new building, according to Tighe of CBRE. That's because those costs can be spread over a longer stretch of time, she said.
JPMorgan Stays
JPMorgan, the world's biggest investment bank, last year decided to keep its headquarters at its four-building Park Avenue campus just north of Grand Central Terminal, after a flirtation with Related Cos. to occupy two new towers at Hudson Yards.
The bank did agree late last year to take 122,000 square feet at Brookfield Property Partners LP's 5 Manhattan West, a former industrial building west of Penn Station, to house some of its technology staff. The landlord is revamping the tower as part of its Manhattan West project, where plans call for more than 5 million square feet of new high-rise construction.
Wells Fargo is weighing its options at three of its New York office locations -- the landmark Seagram Building on Park Avenue and smaller spaces at 540 Madison Ave. and 640 Fifth Ave. -- where leases expire in early 2021, said Kevin Friedlander, a spokesman.
Evaluating Options
The San Francisco-based bank is looking for 200,000 to 300,000 square feet, according to people with knowledge of the matter. It's expected to stay at the Socony Mobil Building on East 42nd Street, the base of its New York operations, where it has 372,000 square feet, CoStar data show.
"Our real estate group is always evaluating our real estate portfolio and our space requirements for our businesses," Friedlander said in an e-mail. "It's what we normally do when leases are up. This market inquiry is consistent with our normal practices."
The larger the need, the fewer options there are, even with new towers rising at Hudson Yards and the trade center, as well as SL Green's 1 Vanderbilt project near Grand Central, said Greg Kraut, a principal at Avison Young, a brokerage with offices in New York. Toronto-Dominion Bank's TD Bank unit last year agreed to locate a 200,000-square-foot regional headquarters there.
A bank could miss out on the right space if it doesn't get moving, Kraut said.
"There's a lot of pent-up demand," he said. "There's a sense that if we don't so something now, are we missing the boat?"
Before it's here, it's on the Bloomberg Terminal.
LEARN MORE