Pistorius Fails to Stop Prosecution Bid for Murder Verdict
Andre Janse van Vuuren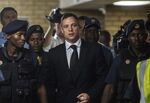 Jailed Paralympian Oscar Pistorius lost his bid to stop prosecutors from seeking a murder conviction in the double-amputee's killing of his girlfriend Reeva Steenkamp.
Judge Thokozile Masipa dismissed the defense's application Friday to block an appeal by the National Prosecuting Authority against the culpable homicide verdict that she handed down in October. If convicted of murder, Pistorius could face a minimum of 15 years in jail.
"The court today agreed with the NPA that this matter should not be entertained by this court," NPA spokesman Velekhaya Mgobhozi told reporters after the hearing in Johannesburg. "It cannot entertain this matter."
Masipa on Dec. 10 granted the appeal of her ruling that cleared Pistorius, 28, of murder charges after an eight-month trial. Pistorius said he thought Steenkamp was an intruder in his home in the capital, Pretoria, when he fired four hollow-point bullets through a locked toilet door on Valentine's Day two years ago.
Prosecutor Gerrie Nel argued last year that Pistorius must have known his actions would lead to the death of the person behind the door and called his five-year jail term "shockingly inappropriate."
The prosecution and defense will probably file their arguments to the Supreme Court of Appeal by late July or August, Mgobhozi said.
Blade Runner
Pistorius can apply for his sentence to be commuted to house arrest in August after having served 10 months in Pretoria's Kgosi Nampuru prison.
When asked if Pistorius could be out of prison by time the Supreme Court case starts, Mgobhozi said, "that is a question to be entertained by the correctional supervision, not the NPA."
Known as the Blade Runner because of his J-shaped prosthetic blades, Pistorius was the first double-amputee runner to compete in the Olympic Games. Born without fibula in both legs, which were amputated when he was 11 months old, Pistorius won six Paralympic gold medals.
Before it's here, it's on the Bloomberg Terminal.
LEARN MORE