How a Star Trumpeter Makes Money Even When Jazz Can't
Dave Douglas is one of the most venerated figures in jazz—and he's figured out how to profit from it
by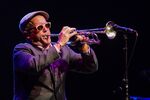 Dave Douglas, the jazz trumpeter, composer, bandleader, record label owner, and podcaster, lives off a narrow road in the woods in a village called Croton-on-Hudson, about an hour north of New York City. It's a good place for a noisy person. Douglas sometimes practices his horn while keeping time with his feet on his drum set. "I'm not a good drummer," he confesses. "But it's a great rhythmic exercise."
Douglas often multitasks. He's one of the most venerated trumpeters in jazz, has won a Guggenheim fellowship for composition, and has fronted numerous bands, including the acoustic Dave Douglas Quintet; Keystone, a group with a DJ that provided music for silent films; and Nomad, a folk-influenced group that made its debut in the Italian Alps at a concert 10,000 feet above sea level. Douglas is currently working on a record, scheduled for release in June, featuring High Risk, his newest band, and Shigeto, an electronic musician from the Detroit area who weaves video game sounds into his work. 
But what's equally remarkable about Douglas is what's least discussed: He's a shrewd entrepreneur who has figured out how to market his music to a global audience at a time when the record industry is struggling to survive. Few musical genres were hit harder by the industry's troubles than jazz. In 2003, Americans bought 23 million jazz albums, according to Nielsen SoundScan. In 2013, they purchased only 5 million. Most major labels have significantly reduced their new jazz releases. Universal Music Group's Verve, the onetime home of Ella Fitzgerald, is pushing smooth R&B singers such as Ruben Studdard of American Idol fame. Even Blue Note—perhaps the most storied jazz label of all—has morphed into more of a sophisticated adult pop imprint, putting out records by Roseanne Cash and Annie Lennox along with those by hard-core jazz instrumentalists such as Wayne Shorter.
Just as jazz sales were imploding 10 years ago, Douglas founded Greenleaf Music, a small company that sells records, T-shirts, sheet music, subscriptions, and produces Noise from the Deep, a podcast co-hosted by the boss. He's uncomfortable talking about the company's finances, referring these kinds of questions to his manager, Mark Tavern, who insists the information is "proprietary." Nevertheless, Douglas says that Greenleaf is making money, and that's the point. "It's not a vanity project," he says.
Douglas is a stocky 51-year-old with close-cropped graying hair, rectangular wire-rimmed glasses, and an earnest, professorial manner. On the day we meet, he's wearing a dark T-shirt from a Romanian music festival, jeans, and no shoes. Douglas was born in Montclair, N.J., the son of an IBM executive. He attended Phillips Exeter Academy, a private boarding school in New Hampshire, then got his bachelor's degree from New York University, which gave him a chance to explore the city's highly competitive and often low-paying jazz scene.

In 1987, Douglas got what many young trumpet players would consider a dream gig. He went on the road for six months with the late hard-bop pianist Horace Silver. There are videos on YouTube of Douglas running through his stock of advanced jazz licks with Silver's group at a concert in Switzerland on the leader's funky classics, such as Filthy McNasty and Nica's Dream. 
But when Douglas returned to New York, his phone didn't ring with bandleaders offering more sideman work. So, with some trepidation, he decided to become a leader himself. He didn't think a single ensemble would be able to perform all the music he had in mind. Instead, he formed several. There was one with strings influenced by Viennese serial composer Anton Webern. He created a trio that blended jazz with Eastern European folk music, and a sextet that played with music inspired by his idols such as Wayne Shorter. This meant Douglas had plenty of musical product to offer his growing fan base. He attracted the attention of small indie labels, signing early on with Soul Note, an Italian company. "Then all these other labels came [and] said, 'We want to do something,'" Douglas explains. "I said, 'Well, I have this different band.'"
These successes led to a deal in 1999 with RCA. Douglas released seven albums for RCA, including his best-seller "Soul on Soul," which sold 13,000 copies in the U.S., according to Nielsen SoundScan. It didn't hurt to be recording for the same company as Justin Timberlake and Avril Lavigne. But Douglas found the experience frustrating. He wished RCA would put his records out when he went on tour. He also had to deal with complaints from fans about glitches when they tried to download bonus cuts on the RCA website. "It really pissed me off," Douglas says. "I'm like you guys are [expletive] RCA. You can't get this to work?"
In 2004, Douglas left RCA and started planning the launch of Greenleaf. His advisers told him to keep it simple and just release his own records. Douglas ignored them.
"I was very adamant," he says. "I felt like if this is a real label, then we have to have multiple artists." He has released 19 of his own records and many others by musicians who range from saxophonist Donny McCaslin to guitarist Nels Cline of Wilco. Douglas was delighted to find that he made as much money making his own records as he did when he was at RCA; he may not sell as many albums, but he keeps much more of the revenue they generate. 
Douglas was also able to experiment with new distribution models. He released albums on CD, still the most popular Greenleaf format. He put them out on vinyl. He offered unreleased tracks to a small number of fans willing to pay for yearly subscriptions to Greenleaf's growing catalogue. Douglas was also game to attempt an occasional stunt. In 2008, he released an entire week of his quintet performing at the Jazz Standard in New York and posted downloads of the previous evening's sets each morning on the Greenleaf website. "I would wake up the next day, and there's somebody in Moscow that's downloading them," Douglas says. "There's somebody in India. I was like, wow, this is a worldwide event." 
He had less success when he tried to offer albums on a flash drive. He sold 300 of them during a two-week European tour. He wasn't sure the purchasers knew what they were buying; they seemed thrilled that he was just signing the card attached with the album cover art. But when Douglas offered the same product on the Greenleaf website, he got a different reaction. "We never sold a single one," Douglas says. "The lesson for me was, don't do that again."
In 2013, Douglas launched Noise From The Deep, the Greenleaf Music podcast, which he co-hosts with bassist Michael Bates. Each week they interview such musicians as ECM recording artists Mark Turner and Saturday Night Live saxophonist Lenny Pickett. There's a fair amount of backscratching and musician-to-musician shoptalk. But it's witty and insightful, and it provides Douglas with another way to draw attention to the Greenleaf brand. It's clearly working for him. Last March, Douglas was ranked No. 2 in the list of the best trumpeters of 2013 in JazzTimes critics poll. It wasn't his only honor. The critics chose Noise From the Deep as their second-favorite jazz podcast. (No. 1, somewhat suspiciously, was the magazine's own.)
Perhaps the best indication of Douglas's entrepreneurial success is his ability to confer his star power on lesser-known Greenleaf artists. In September, the company released "Into the Zone," an album by 34-year-old trombonist and composer Ryan Keberle, who has worked with Wynton Marsalis and Beyoncé but is little known outside a circle of New York insiders. "This is my very first record on a legitimate label," Keberle says. "My previous three records, although they did quite well critically, were all released on my own label." Keberle says it's different recording for Douglas's company. "I've already seen the results," he says.
Back in Croton-on-Hudson, Douglas is getting ready to finish his latest podcast. This one features Mary Halvorson, beloved by jazz critics for her scronky hollow-body guitar work. Fans of Noise From The Deep have also asked the trumpeter to wrangle an interview with Kenny G, the curly haired, smooth-jazz saxophonist whose presence on the podcast would be memorable for different reasons. Douglas said he's working on it. 
Before it's here, it's on the Bloomberg Terminal.
LEARN MORE