Fanuc Jumps on Report Robot Maker May Boost Investor Returns
Jason Clenfield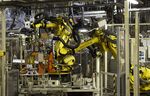 Fanuc Corp., the Japanese maker of industrial robots, jumped the most since 2008 in Tokyo after the Nikkei reported the company may consider ways to increase investor returns.
The move comes three weeks after billionaire investor Daniel Loeb started a public campaign demanding changes at Yamanashi-based Fanuc. The shares rose 13 percent to 26,870 yen, the highest close since Fanuc listed in 1976.
The company, one of the most secretive in Japan, will start a shareholder-relations department next month and begin meeting with stock owners, Keisuke Fujii, a spokesman for the manufacturer, said by phone Friday. The decision to open the department was made last year and isn't related to Loeb, Fujii said. Loeb said in an e-mail he welcomed the changes.
"Improved shareholder relations and capital allocation policies will undoubtedly highlight how undervalued Fanuc's shares are today considering the company's dominant positioning in areas with enormous impending structural growth," Loeb said.
His New York-based hedge fund Third Point LLC called for changes at Fanuc last month after buying a stake, urging the company to buy back shares amid rising earnings and widening profit margins. The Nikkei newspaper reported the news earlier today in an interview with President Yoshiharu Inaba.
'Investor Engagement'
"Dr. Inaba's consistent adaptability and sharp focus have made Fanuc a world-class company," Loeb said in the e-mail. "We are pleased he is applying these same principles to capital allocation and investor engagement."
Fanuc's cash total of $8.5 billion and absence of debt is hard to understand given the company's business quality, growth opportunities and low capital intensity, Third Point had said last month.
The company will probably report profit rose 79 percent to 195 billion yen ($1.6 billion) in the year ending in March, according to the average of 18 analyst estimates compiled by Bloomberg.
"This is a meaningful move for Japanese corporate governance," said Mitsushige Akino, executive officer of Ichiyoshi Asset Management Co. in Tokyo. "And the stock move shows it."
Before it's here, it's on the Bloomberg Terminal.
LEARN MORE