Eni Becomes First Oil Major to Cut Dividend After Price Drop
Javier Blas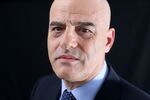 Eni SpA became the first major oil company to announce a dividend cut as the Italian group prepares for a period of lower oil prices.
The Milan-based company said it was targeting a dividend of 0.8 euro per share, down from 1.12 euros in 2014 and the first cut in investors' payout since 2009. The stock fell 4.6 percent today in Milan trading.
"We are building a much more robust Eni capable of facing a period of lower oil prices," Chief Executive Officer Claudio Descalzi said in a presentation in London.
Eni also said it was suspending the 6 billion euros ($6.7 billion) buy-back plan it announced last year. "Its reintroduction will be evaluated when strategic progress and market scenario allow it," the company said.
In his first strategic update since becoming CEO last May, Descalzi announced sales of assets worth 8 billion euros in 2015-2018, including shares in subsidiaries Galp Energia SGPS and Snam SpA. In addition, he proposed a 17 percent cut in investment over the same four years compared to previous plans to adjust to lower prices.
Eni is the last of the big European oil companies to announce lower spending for next year after crude prices slumped to about $50 a barrel from more than $100 a year ago. Royal Dutch Shell Plc, BP Plc, Total SA and Repsol SA have all said they will reduce spending in 2015. But until now, all its rivals have vowed to sustain their dividend.
Production Growth
In spite of the lower spending forecast, Eni said that its oil and natural gas production will grow 3.5 percent per year in the four years to 2018. That's on the back of several projects started in 2014 in Angola, Congo, the U.K., the U.S. and Norway.
In addition, Eni said it would start pumping from another 14 projects from 2015-2018, bringing 650,000 barrels a day of oil equivalent. Eni pumped 1.6 million barrels of oil last year, up 0.6 percent from 2013.
Descalzi said that Eni would be able to pay its dividend and its investment program from its cash flow if oil prices recover to $63 a barrel.
"At around $60 we'll be strong," he said. "We are creating a company that is not using its reserves to pay the dividend but its cash flow."
Reduce Debt
Descalzi took over as CEO from Paolo Scaroni with a mandate to turn around the non-oil business, including the gas and power, and chemicals divisions, and reduce debt. The task was particularly urgent as the loss of oil output in Libya, where before the war in that country Eni was the largest foreign producer, has compounded the impact of lower oil prices.
Aneek Haq, an oil analyst at Exane BNP Paribas in London, said in a report ahead of the strategic update that Eni's businesses outside oil exploration and production "have been a drag on earnings since 2012" despite recent improvement.
Eni reported adjusted net income of $3.7 billion last year, down 16.3 percent from the $4.4 billion of 2013.
Descalzi said that Eni was already in talks with potential buyers for some assets, including gas fields in Mozambique, and added that the company will try to sell mature fields in the North Sea.
Eni plans to reduce its refinery capacity by 20 percent in the next four years, on top of the 30 percent cut it has already achieved. The reduction will allow the company's refinery business to break-even by the end of 2015, Eni said.
The Italian government which owns about 30 percent of Eni through both direct and indirect stakes stands to lose about 352 million euros from the dividend cut. With the Italian economy still struggling to rebound from its longest recession on record the loss may push the government to resuscitate a plan to sell a part of its Eni stake to bring in extra cash.
Before it's here, it's on the Bloomberg Terminal.
LEARN MORE