politics
Emanuel Opens Up Double-Digit Lead Over Garcia in New Poll
Chicago's embattled mayor gets a bit of good news with a runoff just weeks away.
By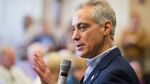 It's supposed to be 62 degrees and sunny on Friday in Chicago. The city's mayor, Rahm Emanuel, has more reasons than just the weather to have a little extra spring in his step.
A new Chicago Tribune poll shows the incumbent has opened up a double-digit lead on challenger Jesus "Chuy" Garcia, gaining support from a majority of voters for the first time in his second-term bid.
Emanuel is at 51 percent, compared to 37 percent for Garcia, with less than four weeks to go before their April 7 runoff election. An additional 11 percent remained undecided in a survey that was conducted March 6-11 with a margin of error of 3.7 percentage points.
In a five-way contest last month, Emanuel got 45.6 percent of vote to 33.5 percent for Garcia. The incumbent, hurt by a drop in support especially from black voters concerned about school closings, crime and economic development, needed 50 percent to avoid the runoff.
Garcia, a Cook County commissioner and former alderman and state senator, has gained endorsements in recent days from 2004 presidential candidate Howard Dean, civil rights activist Rev. Jesse Jackson Sr., former Illinois Senate President Emil Jones Jr. and Willie Wilson, a black businessman who finished third in the mayoral election's first round last month.
Before it's here, it's on the Bloomberg Terminal.
LEARN MORE