Egypt Search for New Investors Starts With Aid From Old Ones
Tarek El-Tablawy, Salma El Wardany and Tamim Elyan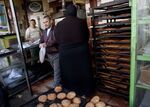 Gulf Arab nations pledged more than $12 billion of new funds for Egypt, maintaining their status as the struggling economy's key backers.
The pledges were announced Friday on the first day of an investor conference that aims to make the North African country less dependent on Gulf aid. Saudi Arabia, Kuwait and the United Arab Emirates each pledged $4 billion of grants or investment, including a total of $3 billion of deposits in Egypt's central bank. Oman promised $500 million.
The Gulf Arab nations poured money into Egypt after the army takeover in 2013, to support a regime that shares their hostility to political Islam. The investor event seeks to present an Egypt that's getting back on its feet after four years of political turmoil, though President Abdel-Fattah El-Sisi's government is still battling an Islamist insurgency.
"We must all stand by Egypt today, because Egypt's security and stability is the region's security and stability," Sultan Al Jaber, the United Arab Emirates minister overseeing U.A.E. aid to Egypt, told the conference on Saturday in the Red Sea resort of Sharm El-Sheikh.
'Positive Message'
The event comes at a critical time for Egypt. The Arab world's most populous nation has seen its net international reserves drop to about $15 billion from more than $36 billion before the 2011 uprising against Hosni Mubarak.
The $300 billion economy has been growing at the slowest pace for two decades, and signs of recovery in the second half of 2014 have given way to renewed distress signals from recent data. The benchmark stock index reached a six-year high in early February, and has since dropped about 4 percent.
The new Gulf aid will "send a very positive message about the economy," said Omar El-Shenety, managing director at Cairo-based investment bank Multiples Group. It's "different than previous pledges in that a good part of it is coming in the form of investments, not just deposits," he said.
The bulk of investment announcements from the Gulf and beyond, came from companies with presence in Egypt.
Masdar, an Abu Dhabi-based company, and Saudi Arabia's ACWA Power signed memorandums of understanding with the Egyptian government to build power stations valued at $15 billion. Alsudain Group, another U.A.E. company, signed two agreements valued at $6 billion to develop a wheat logistics hub in Damietta and a logistics and shopping zone in Ain El-Sokhna on the Red Sea.
U.S. Aid
As Gulf nations stepped up backing for Egypt under El-Sisi, who led the army's 2013 ouster of an elected Islamist leader, the U.S. has reduced financial support for the country.
Secretary of State John Kerry voiced approval of Egypt's economic plans at the conference. He said that he expects the U.S. to reach a decision soon on the resumption of full military aid, which was affected after Mursi's ouster. Kerry said moves toward democracy would help Egypt's economy recover.
The conference is "an opportunity to help Egypt over the hump," he said Saturday. "But unless over the long-term Egypt gets significant private investment, you will be repeating the same cycle." On Friday, he also urged Egypt to take steps on political freedoms and human rights.
"The more political openness and freedoms there are, the more democratic aspirations are fulfilled, the more business will thrive," he said.
El-Sisi, in his address to the conference, billed support for Egypt as backing for a nation that has been "the first line of defense" in the fight against terrorism. He also focused on economic policy, saying Egypt is committed to a market economy and to promoting the private sector.
Reducing Subsidies
In the run-up to the Sharm El-Sheikh meeting, authorities have taken steps to attract investors, including reducing energy subsidies, lowering income tax and devaluing the pound. The government also set up new mechanisms to resolve commercial disputes, after a series of lawsuits challenging contracts.
"Egypt welcomes partners and investors seeking opportunities in Egypt," El-Sisi said.
The idea of an investor conference for Egypt was initially proposed by Saudi Arabia last year. U.A.E. Prime Minister Mohammed Bin Rashid Al Maktoum told the event on Friday that his country had already pumped in $14 billion over two years.
Before it's here, it's on the Bloomberg Terminal.
LEARN MORE