Chipotle Co-CEOs Got Raise in 2014 Despite Shareholder Concerns
Craig Giammona and Lindsey Rupp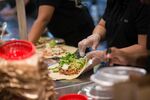 The two executives running Chipotle Mexican Grill Inc., who have been criticized for excessive pay, saw their compensation rise again last year.
Steve Ells and Monty Moran, who serve as Co-CEOs of the fast-casual Mexican chain, received $28.9 million and $28.2 million in total compensation in 2014, respectively, the Denver-based company said in a filing Friday.
Last May, 77 percent of Chipotle shareholders opposed the company's compensation terms. CtW Investment Group, a union-backed pension-advisory firm, encouraged shareholders to revolt against the pay packages, saying the executives were being treated like "Sun Kings." In 2013, Ells and Moran received about $25.1 million and $24.4 million in total compensation.
A so-called "say-on-pay" proposal is again in front of Chipotle shareholders this year, according to the filing. The vote is advisory and the board and compensation committee aren't bound by it.
Ells had a base salary of $1.4 million in 2014 and received a bonus of $3.57 million, with another $23.7 million worth of stock options. Moran's salary was $1.2 million and he took home a $3.1 million bonus and got $23.7 million in stock options. Chipotle's stock price rose almost 29 percent in 2014.
Chipotle's co-CEOS weren't the only executives reporting more than $25 million in compensation on Friday. Kate Spade & Co. said in a filing its Chief Executive Officer Craig Leavitt received $26.2 million in compensation and Chief Creative Officer Deborah Lloyd was granted $25 million.
Leavitt and Lloyd received $20.7 million and $18.1 million in stock awards respectively, $13.1 million of which came from a one-time grant each received. Former CEO William McComb received $6.5 million in severance pay and the company allowed $18.2 million in previously awarded options to continue to vest.
Before it's here, it's on the Bloomberg Terminal.
LEARN MORE