Black Market Bullets Are Killing Venezuelans
Anatoly Kurmanaev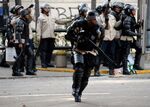 The Venezuelan military's failure to comply with bullet coding laws is fueling the world's second-highest murder rate and enriching black market speculators, according to lawmakers, police officers and activists.
Almost two years after President Nicolas Maduro ordered Cavim, the army-owned munitions company, to code bullets according to intended users among the police, military and sports shooters, the company has yet to comply. That means security forces have no way of tracing who is selling ammunition to the country's armed gangs.
"Nothing has been done," said Yoryi Carvajal, police commissioner for the Chacao borough of Caracas, who oversees 870 armed officers. "The bullets we get from the government are as plain as ever," he said in an interview in his office Feb. 24.
The military's refusal to mark the bullets, even after an estimated 25,000 murders in Venezuela last year, shows where the power lies in a country where officers run the economy, defense and food ministries, said Jose Guzman Perez, a visiting political science professor at the University of Miami. Ammunition made by Cavim accounts for about 70 percent of all gun murders in the country, according to the non-profit organization Venezuelan Violence Observatory.
"The government knows that state munitions are being diverted to criminal gangs but is powerless to do anything about it," said Guzman Perez, 69, former Venezuelan armed forces intelligence officer and author of seven books on the country's military history. "Maduro is a prisoner of the armed forces."
Military Power
Since Maduro came to power two years ago, the armed forces have created their own television channel, housing program and bank, the only military-owned one outside Iran and Vietnam. A third of Venezuela's 28 ministers and half the state governors are now active or retired officers, mostly companions of former paratroop commander and late President Hugo Chavez.
The military controls the border crossings used to smuggle about $3.6 billion of the world's cheapest gasoline to Colombia last year, according to Venezuelan Vice President Jorge Arreaza. They also run the state-owned Supply and Agricultural Services Corp. that imported $6 billion worth of food in 2013 at the preferential exchange rate, the Food Ministry's annual report shows.
"The military has become heavily involved in the distribution of food and goods outside the big cities; they control the border," said Harold Trinkunas, senior fellow at the Brookings Institution in Washington. "This gives them a lot of say about what's going on in the country, but also creates a lot of opportunities for corruption."
Ensuring Loyalty
The benefits help ensure their loyalty, while siphoning reserves away from the poor whose wages and savings are being wiped out by the world's highest inflation, he said.
"There are many competing power groups within the armed forces," said Rocio San Miguel, director of non-profit security researcher Citizens' Control. "Maduro hasn't been able to establish control over them since Chavez's death."
Not only are Cavim's bullets unmarked, they are also cheap, with the Caracas-based company selling them at a 97 percent discount to the black market to law enforcement agencies, Chacao Police's Carvajal said. With the economy in meltdown, there is an incentive for soldiers and police officers to sell their ammunition.
Financial Temptation
In the western state of Tachira near Colombia, a regular policeman earns the minimum wage. That translates into a monthly after-tax income of 5,700 bolivars ($32 at the official secondary exchange rate) for patrolling one of Latin America's most dangerous borders, Tachira Police payment records show.
At the same time, the Disarmament Law signed by Maduro in June 2013, which included bullet coding, banned the private sale of guns and ammunition, forcing criminals to buy weapons smuggled from Colombia or turn to policemen and soldiers.
Real wages probably won't rise soon. Venezuela's economy will contract 7 percent this year, according to UBS AG as the slump in the price of oil slashes fiscal revenue and exacerbates shortages of imported goods ranging from syringes to milk.
"Everyone in the force is doing something on the side to survive," Tachira Police officer Carlos Chacon said as he drove his patrol car on a February night through the shantytowns of San Cristobal, the state capital and a melting pot of retired Colombian paramilitaries, communist guerrillas and local smuggling gangs.
Sanctions List
Maduro's office, Defense Ministry and Cavim spokesman Rafael Monasterios didn't respond to e-mails and phone calls on delays in the implementation of the Disarmament Law and the bullet black market. Cavim's president, General Santiago Sandoval, didn't answer interview requests made through the Information and Defense Ministry's press offices.
Sandoval's predecessor, Vice Admiral Jose Vicente Padilla, was removed from his post in October after only two months in the job following an investigation by the military intelligence service, ruling party member Jose Vicente Rangel said in his weekly television program that month. He didn't give details.
Cavim has been on the U.S. sanction list since 2013 for allegedly trading with Iran, North Korea or Syria. The company has not commented on the accusations.
Heavy Price
Venezuela's gun murder epidemic last year cost the lives of people including a former Miss Venezuela, Maduro's bodyguard and former head of the national intelligence service. The country has the world's highest homicide rate after Honduras, at 53.7 per 100,000 in 2012, according to the latest report by the United Nations.
Many of the victims are police officers. Chacon, says one of his colleagues, Jesus Ramirez, 26, was shot dead outside a police station in December by criminals looking for his gun.
Overall, 600 policemen were killed in Venezuela last year, according to the Committee of the Victims' Families, an anti-crime non-governmental organization. Many were murdered for their weapons.
Putting simple standardized codes on bullets would save many lives, said Philip Alpers, public health professor at the University of Sydney and director of GunPolicy.org database.
"Ammunition marking is perhaps the most promising technological initiative to reduce armed violence in recent years," he said in an e-mailed response to questions.
No Oversight
Not only does the military not code its bullets, it has also resisted greater transparency. The Disarmament Law stated that Cavim had to present an annual report on bullet production and sales to congress, starting in 2014. The company has yet to do so, according to opposition lawmakers Ricardo Sanchez and Eduardo Gomez.
"Parts of the military are clearly not interested in having greater oversight of their business activities," Sanchez said.
Their refusal to present reports is stoking speculation that the military's top brass is making money by selling ammunition on the black market, said Venezuelan Violence Observatory director, Roberto Briceno Leon.
It is also a further illustration of their stranglehold over the government as the economy contracts and prices spiral higher, Guzman Perez said.
"Never in the history of the Republic have the armed forces had as much power as today," he said. "By giving the officers economic power, Maduro has compromised the democratic institutions meant to control them."
Before it's here, it's on the Bloomberg Terminal.
LEARN MORE