Being the Next Buffett Is Easy With Latest Berkshire T-Shirt
Noah Buhayar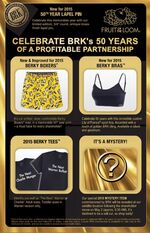 Warren Buffett has kept investors in the dark for decades about who will succeed him as chief executive officer of Berkshire Hathaway Inc. Soon, shareholders will be able to insert themselves into the guessing game.
Berkshire's Fruit of the Loom subsidiary will be selling T-shirts at the company's annual meeting in Omaha, Nebraska, with the phrase "The Next Warren Buffett," according to a visitor's guide for the May 2 event posted online. There will also be one for Berkshire's 91-year-old Vice Chairman Charles Munger. Toddler sizes are available only in the Buffett version.
"Identify yourself as 'The Next' Warren or Charlie!" an advertisement reads in the guide, which also has promotions for Berkshire-themed boxer shorts, "BERKY BRAS" and a mystery item that will go on sale the day of the meeting.
Buffett, 84, is celebrating his 50th year running the company. He told shareholders in an annual report last month that the Omaha-based firm's board has the "right person" for the job without identifying the executive in the document. In a separate passage, Munger highlighted two Berkshire managers -- Ajit Jain and Greg Abel -- as examples of "world-leading" executives who are in some ways better than Buffett. The comments stoked speculation that Jain and Abel are the leading candidates.
Neither executive immediately responded to a request for comment about whether he would be buying one of the T-shirts.
Souvenirs from Berkshire subsidiaries like See's Candies and running-shoe company Brooks have become a fixture of the annual meetings, which draw tens of thousands of shareholders each year to listen to Buffett and Munger opine on business, the economy and investing. The sales help boost profit and reinforce investors' connection with the dozens of brands owned by the $355 billion holding company.
Last year, the Oriental Trading unit sold "fiesta ducks" resembling the Berkshire executives that sported sombreros, multicolored ponchos and -- in Buffett's case -- a maraca. The 2014 Berkshire meeting fell two days before Cinco de Mayo.
Before it's here, it's on the Bloomberg Terminal.
LEARN MORE