Australian Teen Turned Iraq Bomber Shows Radicalization Threat
Jason Scott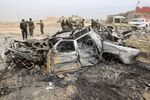 An Australian teenager who converted to Islam before reportedly carrying out a suicide bombing for Islamic State in Iraq shows the growing threat of self-radicalization through the Internet.
Authorities are seeking to verify reports that Jake Bilardi, 18, was killed in a coordinated attack in the city of Ramadi on Wednesday, after the extremist group released images of the so-called "white jihadi" and said he was involved.
Bilardi, who converted to Islam after his mother died of cancer in 2012 and traveled to the Middle East last year, had written blog posts denouncing the U.S., Israel and Australia and described how he learned about Islamic State online, the Sydney Morning Herald reported. Police in his home state of Victoria say they found bomb-making chemicals in his Melbourne home after he was reported missing last year.
"Potential threats don't just come from people with an ethnic background," said Nick O'Brien, a former U.K. anti-terrorism officer. "We should be worried as it shows it's almost an impossible task to stop people from being radicalized over the Internet."
Police and intelligence agencies in the West are attempting to counter a wave of disaffected youth joining the ranks of Islamic State, with at least 110 Australians having traveled to join the group in Iraq and Syria.
Expanding Threat
While the initial peril predominantly was seen to be among Middle Eastern migrants, Bilardi's case shows the threat is expanding, according to O'Brien, who nows heads the Australian Graduate School of Policing and Security at Charles Sturt University in Canberra.
Prime Minister Tony Abbott's government raised the nation's terrorism alert to the highest level in a decade in September citing the threat posed by local supporters of Islamic State. Since then, more than 20 people have been arrested and charged in counter-terrorism operations, while officers in December killed a gunman claiming an allegiance to Islamic State following a siege in Sydney that also left two hostages dead.
Australia was seeking to verify the reports that Bilardi was involved in Wednesday's suicide bombings, Foreign Minister Julie Bishop told reporters in Perth on Thursday.
"If these reports are confirmed, this is another tragic example of a young Australian being lured to a senseless and violent death by a brutal terrorist organization that is intent on imposing suffering and misery, not only in Iraq and Syria, but beyond," Bishop said.
Chemicals Found
Victoria state police say officers searched the teenager's home after he was reported missing in late 2014 and "uncovered chemicals that could be used to construct an explosive device."
"No actual explosive device was located by police," the force said in an e-mailed statement.
The teenager was initially dubbed "Britain's white jihadi" by U.K. media after a picture was circulated online of a Westerner holding a rifle flanked by Islamic State fighters. He was identified this week by Australian media, with newspapers interviewing former school friends in his Melbourne suburb of Craigieburn.
In his blog post, Bilardi accused American soldiers of bombing and shooting civilians in Afghanistan and Iraq "just for fun," and described how he sought out information on Islamic State on the Internet, the Herald reported.
'Intellectual Loner'
"He seems to have been as close to someone who has truly been self-radicalized as you are likely to find," said Greg Barton, a professor at Monash University's School of Political and Social Inquiry in Melbourne. "He appears as an intellectual loner trying to make sense of what he saw as global injustice, which seems to be a connection between a lot of these young extremist converts."
As soon as Bilardi was named in the media, Islamic State would have decided he wouldn't be able to carry out an attack in Australia and that he would be most useful as a suicide bomber in Iraq, O'Brien said.
"The big question is how many westerners are in the Middle East now receiving training by Islamic State that they want to send back to carry out attacks that the authorities don't know about," O'Brien said. "That's a huge worry."
Before it's here, it's on the Bloomberg Terminal.
LEARN MORE