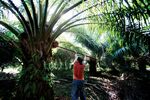 The sprawling palm oil industry has long been a destroyer of rain forests and tormentor of endangered species across Southeast Asia, to hear environmental groups tell it. And if one executive embodied this $50 billion business, it was Kuok Khoon Hong, a 65-year-old Singaporean commodities magnate.
Known as the palm oil king, Kuok is a member of one of Asia's most powerful business clans and co-founder and chairman of Wilmar International. These days he is no longer portrayed as a villain by activists and nongovernmental organizations. He's become central to their campaign to prod the palm oil industry to adopt eco-friendly business practices that may start to slow the environmental damage in the region. "I would consider myself an environmentalist today," he says. "I changed a few years ago when I saw the damage climate change had on the environment in some countries."
Extracted from the orange pulp of a palm fruit, palm oil is the most used edible oil in the world. You use it every time you brush your teeth, wash your hair, eat ice cream, or put on lipstick. As commodities go, it's cheap, versatile, and plentiful—palm fruit yields more oil than any other agricultural commodity. Cultivation of palm oil ties up more than 42 million acres worldwide, an area four times the size of Switzerland.

The business has made Kuok a billionaire and lifted many communities in Southeast Asia and Africa out of poverty. It's also led to mass deforestation and a big air pollution problem. Some palm growers still take a slash-and-burn approach to clearing forests, although the practice is banned in Indonesia and Malaysia. That sends massive amounts of carbon dioxide into the air. In parts of Southeast Asia, only 5 percent of primary, or virgin, forest cover remains, according to Global Witness, an environmental group.
Kuok's change in thinking has been gradual and owes much to pressure from shareholders and environmental activists. About two years ago, Norway's Government Pension Fund Global, the world's biggest sovereign wealth fund, dumped shares in Wilmar and 22 palm companies, citing environmentally harmful industry practices.

Greenpeace videos alleging that palm oil buyers including Unilever and Procter & Gamble contribute to deforestation scored millions of YouTube hits. On an investor call, environmentalists heckled the chief executive officer of Kellogg about buying palm oil from Wilmar. In 2013, Singapore, where Wilmar is based and Kuok lives, was covered in ash from plantation fires tied to the industry.
A Chinese immigrant family in British-controlled Malaya, the Kuoks started with a rice and flour shop before patriarch Robert Kuok rose to be one of the world's top sugar traders. Robert's nephew Khoon Hong set up Wilmar with a partner in 1991. Operating largely in Malaysia and Indonesia, the company grew to be one of Singapore's biggest, with $43 billion in revenue in 2014, and it's the Kuoks' premier agribusiness.

Wilmar had argued that it was primarily a trading company and didn't play a direct role in the environmental abuses—and thus couldn't be expected to police the industry. Nevertheless, it was an attractive target for critics. One activist went on TV to blame Singapore's ash on Wilmar. "I asked myself what we did wrong for us to be so wrongly accused," Kuok Khoon Hong says.
Because of Wilmar's industry position, "we were made to look like the biggest villain." The activist on TV was Glenn Hurowitz, an executive director of the environmental consulting group Catapult, in Washington, and one of the strategists behind a yearlong attack by NGOs on the palm industry, with Wilmar as the No. 1 target.
Kuok tracked down Hurowitz. Within weeks the former tormentor was in Kuok's office laying out a plan to change the palm oil industry and eradicate its links to deforestation. Face to face with Kuok, Hurowitz says he found the businessman interested in what he had to say. "He had not been focused on the environmental issues until we started talking," Hurowitz says. "He deserves enormous credit for being open-minded."
By late 2013 the sustainability momentum brought in Unilever CEO Paul Polman, whose company is the world's biggest buyer of palm oil. Polman joined the talks as Unilever had been under pressure from activists. Wilmar, Unilever, and environmental groups wanted all palm oil companies to sign off on new industry standards, but most resisted. When Unilever agreed to join with Wilmar, Kuok broke industry ranks and made the environmental pledge in late 2013.
Wilmar and Unilever announced that not only would they abide by sustainable principles but they would also force their suppliers to do the same. They effectively promised that no trees of any kind, peat land, or orangutans were damaged or hurt in the making of the products. More companies jumped on board with zero-deforestation pledges. McDonald's, Procter & Gamble, and Starbucks are among more than 30 companies with commitments to buy palm oil that's certified as sustainable by the end of 2015.

Wilmar and Unilever are backing a database system that asks companies involved in the sale and purchase of palm oil to detail their transactions. If it works, industry players will be able to check the original source of their palm oil and determine whether the supplier is compliant with environmentally friendly practices. Yet another tool, an online map built by the World Resources Institute environmental group, uses satellite imagery to identify forest fires and tree clearing. In January, Wilmar set up a website that catalogs its supplier mills and plantations and lets visitors to the site check whether these are in an area that's been deforested.
The push to clean up palm oil production faces big challenges. It's a fragmented industry, and not every company has joined the sustainability push. Nor are the initiatives Wilmar and others have signed on to legally binding. Restoring the lost rain forests and animal habitats will take decades.
Still, the campaign is more than a public-relations gesture, says Dave McLaughlin, vice president for agriculture at the World Wildlife Fund: "They're putting their credibility on the line." These global companies, he says, "really are exposed on the palm oil issue. It's difficult. The circumstances and the issues are not easy, but they're doing it."
The bottom line: Wilmar's and Unilever's push to stop deforestation in the palm oil industry has moved other big companies to follow suit.
Before it's here, it's on the Bloomberg Terminal.
LEARN MORE