What to Eat, See, and Drink in Canberra, Australia
Once thought of as Down Under's must-miss capital, Canberra is coming into its own
By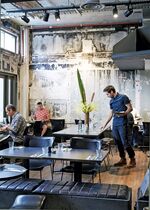 Sydney, Melbourne, the Gold Coast, the Great Barrier Reef … Canberra, Australia's eighth-largest city, doesn't generally make the mainstream tourism cut. That's about to change. Best known for its large university and somewhat sleepy night life, Canberra has been revitalized by an influx of bars, restaurants, and boutique hotels. The chic little city, which celebrated its centennial in 2013, is only a three-hour drive from Sydney and Melbourne and the perfect place to stop for a few nights. Go soon, before it's spoiled by everyone else. Here's your itinerary.
The Cupping Room

Indulge in Australian coffee snobbery at this cafe, owned and operated by Canberran small-batch roaster Ona Coffee. Forget americanos and espressos—try long or short blacks and swap a cappuccino for a flat white. Perch on the terrace for breakfast or lunch, and enjoy gooey banana hot cakes with salted caramel sauce or a salmon tartare drizzled in chardonnay vinegar. 1/1-13 University Ave., +61 2 6257-6412; thecuppingroom.com.au
National Arboretum 

Located at the western end of Lake Burley Griffin, this beautiful park was created after huge bush fires wiped out the area in 2003. (Replanted in 2005, it officially opened in February 2013.) It's filled with forests of Himalayan cedar and cork oak and open every day for strolling until 8:30 p.m.
Eighty Six

The entire menu at this restaurant in the suburb of Braddon is scrawled on a large chalkboard wall; dishes are produce-driven, so there's a finite number of each available. As soon as one's finished, it's struck through, or eighty-sixed, hence the name. The best seats for the two evening servings are the stools by the open kitchen. There, you can watch chef-owner Gus Armstrong cook his riffs on diner staples. The free-range meat is slow-cooked in a tomato barbecue sauce, then finished under a grill so the outside is crunchy. Save room for the other best-known dish: a sundae piled high with house-made peanut brittle and popcorn ice cream. Elouera St., Mode 3 Building, Braddon, +61 2 6161-8686; eightysix.com.au
A. Baker

Go to this standout on Sundays, when there's live music and an alfresco bar. During the rest of the week, it's a quiet place where you can enjoy a double short black. For breakfast, order baker Ruslan Salbiev's bread—try the soy linseed 10-grain sourdough. Downstairs is a small bar, and the best martinis are made with Aussie gin or vodka from Kangaroo Island near Adelaide. NewActon Pavilion Unit 2, 15 Edinburgh Ave., +61 2 6287-6150; abaker.com.au
Hotel Hotel

Inspired by a traditional outback shack, this 68-room hotel is entirely Australian-made, from the bed linens and toiletries to the wine in the minibar. The lobby is dominated by a huge concrete hearth, with low-slung leather sofas designed for grazing from the hotel restaurant, Monster. For a late-night snack, try bao buns stuffed with pork that's been sous-vide for 38 hours, excellent with the thick-cut, house-made French fries. Doubles from about $285; NewActon Nishi, 25 Edinburgh Ave., +61 2 6287-6287; hotel-hotel.com.au
Lake Burley Griffin 

The city is centered around this pretty body of water, named after American architect Walter Burley Griffin, who, with his wife, Marion, designed Canberra in 1913. The lake is lined with wide, tree-lined boulevards.
Molly

Listing coordinates instead of an address is a bit twee, but persevere. This speakeasy's booth-lined basement, a former bank vault, is known for its on-site deli. Brass keys are held by regulars, who can rent a safe to store their bottles. 35° 16' 46.45" S – 149° 7' 35.23" E (Hobart Place, Civic Centre); molly.net.au
Before it's here, it's on the Bloomberg Terminal.
LEARN MORE