Walter Salmon, Harvard Business School Professor, Dies at 84
David Henry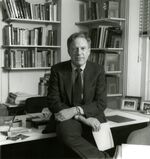 Walter J. Salmon, the Harvard Business School professor who explained the intricacies of retailing to generations of students and senior managers, has died. He was 84.
He died on March 8 at Beth Israel Deaconess Medical Center in Boston from complications of a stroke, according to a statement on the school's website.
Salmon was a member of the faculty for more than 40 years, and was most recently a professor emeritus. He taught consumer marketing and retailing in the Boston-based school's Advanced Management Program for senior executives and was chairman of its Top Management Seminar for Retailers and Suppliers, according to a profile on the school website. In retirement, Salmon supervised field studies for MBA students.
"Walter was a legend in our field," Rajiv Lal, a Harvard Business School professor, said in the statement. "I do not know of any academic who was revered as much by the retail industry."
Known for his ability to bridge business theory and practice, Salmon mentored thousands of students, helping them to find employment in the retail industry after graduation, according to John H. McArthur, a former school dean.
Salmon also wrote or co-wrote hundreds of case studies on companies such as Lowe's Cos., Dayton Hudson Corp., Dunkin' Donuts and L.L. Bean Inc. His books included "Strategic Retail Management" (1996) and "An Introduction to Retailing" (1996), both co-written with colleague David E. Bell, a marketing professor.
Board Failings
"I've served on more than my share of corporate boards over the past 30 years, and I've rarely found that 'passive,' 'supine,' or 'fat, dumb, and comfortable' (just a sample of recent comments about boards) describe the directors I've worked with," he wrote in the January 1993 issue of Harvard Business Review. "However, critics of the boardroom have plenty of substantive ammunition, and we can no longer avoid the glaring evidence that too many corporate boards fail to do their jobs."
Walter J. Salmon was born on Nov. 16, 1930, in New York City. The middle initial didn't stand for a particular name, according to Harvard. The only child of Clarence and Fay Salmon, he was raised alone by his mother in New York, his daughter Elizabeth Frank said Thursday in a telephone interview. Fay Salmon taught piano and sold handbags for the Lord & Taylor department store in Manhattan.
Business Education
He earned a bachelor's degree in business administration from the City College of New York in 1952, while working part-time at Bloomingdale's department store. Two years later, as a Baker Scholar, he graduated with high distinction from Harvard Business School with a master's in business administration.
Salmon then served two years in the military, assigned to the U.S. Army Logistics Management Center, where he wrote cases for the Armed Forces Management School.
In 1956, he returned to Harvard to work as a research assistant to Malcolm P. McNair, a professor who helped pioneer the study of retail economics.
Salmon completed a doctorate in business administration at Harvard in 1960 and became an assistant professor there, according to the statement. By age 37, he was a full professor with tenure. He mixed teaching with consulting work, serving on boards at companies such as Quaker Oats Co., Neiman Marcus Group and PetSmart Inc. He retired in 1997.
"Walter was a very special person who brought so much knowledge and ability to the table and possessed so many wonderful qualities as a human being," McArthur said.
Salmon lived in Lincoln, Massachusetts, for many years before moving to nearby Brookline four years ago. He also had a Cape Cod summer house on the state's coastline, where he enjoyed boating, according to his daughter. He was an avid tennis player into his 80s.
His wife of 60 years, the former Marjorie Swartz, died in May. In addition to Elizabeth Frank, his survivors include their two other daughters, Joan Salmon and Stephanie Shenton.
Before it's here, it's on the Bloomberg Terminal.
LEARN MORE