Venezuela's Currency Is a Boon to Smugglers
Venezuelans sell price-controlled goods for more in Colombia
By and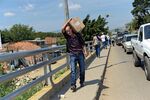 Colombians in Cúcuta, on the border with Venezuela, dine on smuggled chicken, rice, and pasta, brush their teeth with smuggled toothpaste, and wash their hair with smuggled shampoo.
This bounty comes courtesy of the socialist government of Venezuelan President Nicolás Maduro, which keeps consumer goods, gasoline, and food cheaper than anywhere else in South America. Prices are low, but the shopping lines take hours to shuffle through, the choice is limited, and supplies short. The variety and quantity might be better if not for crooked Venezuelan officials with access to subsidized produce and goods. (Individual Venezuelans also smuggle.) They're selling to Colombian merchants who pay more than the regulated prices set by the Caracas government. The Colombians also pay in pesos, rather than in bolivars, Venezuela's currency. The bolivar has slumped about 60 percent on the black market since September, following the plunge in the price of crude oil, the country's main export. Venezuela's Information Ministry didn't reply to e-mails and phone calls seeking comment.

The illegal border trade is worth roughly $5 billion a year. About 80 percent of goods on sale in Cúcuta's biggest marketplace come from Venezuela, says Hernando Gomez, who represents the market's 1,683 stall holders. "Venezuelans sell at prices that are very expensive for them but for Colombians are extremely cheap, because of the exchange rate," he says, adding that smugglers arrive with rice and sugar in multi-ton loads.
Smuggled food and goods are openly on sale in Cúcuta's La Parada district, a few hundred yards from the "Welcome to Colombia" sign at the border. Many of the products have been stamped by Venezuela's Fair Price Regulator with the mandated price in bolivars. Police in La Parada turn a blind eye. A thirsty traveler can buy an ice-cold contraband soda on the Simón Bolivar bridge between the two countries, right under the gaze of the security forces and customs officials at either end. Young women sit on the bridge, offering to change currency while they fan themselves with 100-bolivar notes, worth about 36¢ each on the black market. Below, in the almost-dry riverbed, Venezuelan soldiers look for smugglers.
In a store near the border, a 50-gram Dove deodorant, made in Mexico by Unilever, is on sale for 4,000 pesos ($1.60). It's stamped with its legal price of 17.58 bolivars, about 7¢ at the informal exchange rate. In a Bogotá supermarket, the same product, shipped and handled the legal way, costs 13,670 pesos. A 1-kilogram bag of maize flour, marked "For sale only in Venezuela" and stamped with its regulated price of 12.4 bolivars (about 5¢), costs 1,900 pesos (72¢) in the market. "All the produce here is Venezuelan," says a butcher with a stall who asked not to be named because he sells smuggled meat.

José Vielma Mora, the governor of Venezuela's Tachira province, which borders Cúcuta, feels the impact of smuggling. "I'm looking for five people to work for me in the state office, and even with all the benefits we provide—in cars, housing, food—I still can't find anyone," Mora says. "Why? Because they're all busy smuggling."
Maduro and Colombian President Juan Manuel Santos met last August to launch a crackdown on smuggling. The price of a gallon of contraband gasoline in Cúcuta spiked 50 percent, to $3.40 per gallon. It's now back at about $2.30, slightly more than before the two met.

Contraband fuel is sold openly, from makeshift gas stations. The crackdown has raised bribery costs, according to one gasoline seller, who asked not to be named because his job is illegal. He lies in a roadside hammock, surrounded by gasoline cans. When a car pulls up, he siphons the contraband into the tank. Since fuel is virtually free in Venezuela, the biggest costs are bribing officials on both sides of the border and paying off the Colombian mafia clans and guerrillas who control the dirt tracks that cross it. One smuggling run can require eight bribes.
Santiago Rojas, head of Colombia's Customs Agency, says that improved coordination with the Venezuelans, aerial monitoring of the border zone, and the use of special units to control cross-border dirt tracks have helped cut smuggling by half in the past year. Despite this, high volumes of contraband continue to get through. "Exchange rates that are so different generate business linked to arbitrage," Rojas says. "This has generated a complicated series of practices."
The bottom line: Venezuelans can buy a gallon of gasoline at home for less than a penny and sell it in Colombia for about $2.30.
Before it's here, it's on the Bloomberg Terminal.
LEARN MORE